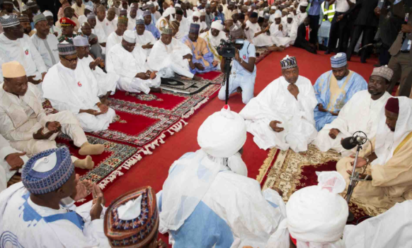 President Muhammadu Buhari, others at the wedding
Abuja – Vice President Yemi Osinbajo has called on the newly wedded couples to always imbibe the teachings and lessons of almighty God in their marital life to enable them have peace and joyful married life.
Osinbajo made the call on Friday at the wedding reception of the in-law to President Muhammadu Buhari, Hamza Ahmed at the Banquet Hall of the Presidential Villa in Abuja.
The Vice President advised the couple to always do things together and imbibe the Spirit of togetherness.
The wedding fatiha was conducted by the Chief Imam of Abuja National Mosque Prof. Shehu Galadanchi, after a payment of N100,000 as dowry by the representative of the groom Prof. Abdullah Abba.
The wedding fatiha was attended by President Muhammadu Buhari, President of the Senate, Bukola Saraki, National Security Adviser, Babagana Munguno, Inspector General of Police, Ibrahim Idris among others.
Osinbajo, who was the special guest of honour at the event, enjoined the couple to dedicate their life and time to ensure the success of the marriage.
Also speaking, the Governor of Oyo State, Abiola Ajimobi, called on the couple to tolerate one another and avoid any negative tendencies that could lead to disagreement among them.
Ajimobi also urged the couple to take their marriage an act of worship by providing the necessary support to one another.
The representative of the bride and the Managing Director of Federal Airport Authority (FAAN), Mr Saleh Dunoma, prayed for the almighty God to always provide the means for groom to take good care of the bride.
According to him, as from today, the welfare and wellbeing of the bride is now the sole responsibility of the groom.
In his closing remark, the Secretary to the Government of the Federation, Mr Boss Mustapha, urged the groom to take the counsel of Vice President seriously as the only way to attain successful married life.
" Hamza your marriage is beautiful but on constant basis, I plead with you to always abide with God in your marriage because He is the only one that can sustain that marriage'' he said.
The SGF, therefore, thanked the invited guests and prayed to almighty God to take everyone back to their various destinations.
Dignitaries, who attended the reception includes Chief of Army Staff Yusuf Buratai, Gombe State Governor, Hassan Dankwambo, Former Inspector General of Police, M.D Abubakar, National Security Adviser Babagana Mungono, EFCC Chairman Ibrahim Magu among others (NAN).