By Chidi Nkwopara
OWERRI—CATHOLIC Archdiocese of Owerri Ecclesiastical Province has said it "will not bury it's head in the sand like an ostrich, while things go wrong in Imo State, no matter the volume of threat and intimidation" from the state government.
The Archdiocese also vowed to hold Governor Rochas Okorocha responsible, if anything happens to His Grace, Archbishop Anthony Obinna, or any of those working with him.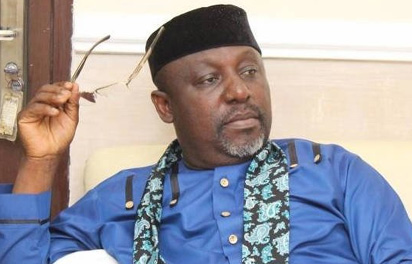 The Archdiocesan position was made public yesterday, in its official mouthpiece, The Leader and widely circulated within and outside Owerri.
The Church held that the press conference addressed by Okorocha's Liaison Officer, Dr. Edward Ihejirika and Special Adviser on Electoral Matters, Mr. Steve Asinobi, in Abuja, was not only inciting but also "a declaration of war on the Archbishop and the Catholic Church."
According to the Archdiocese, the duo not only accused the Archbishop of "blackmail and intimidation", but also warned that the Okorocha administration would "not handle him (Archbishop Obinna) with kid gloves, as was done by the Ikedi Ohakim government".
The administration had in the press conference warned that: "Archbishop Obinna succeeded in his blackmail then because Ohakim's government handled the issue with kid gloves. But that would not be the case this time. We will not tolerate any intimidation or blackmail coming from anybody or anywhere, even from the spiritual realm."
The Archdiocese said that the Archbishop did not make any verbal attack on the governor's wife and Uche Nwosu, adding that "the Archbishop was addressing everyone present, on issues concerning the state, which he has the right to speak about, without fear or favour."
Subscribe for latest Videos