U.S. President Donald Trump on Tuesday said he had replaced U.S. Secretary of State Rex Tillerson with Central Intelligence Agency Director Mike Pompeo, and had tapped Gina Haspel to lead the CIA.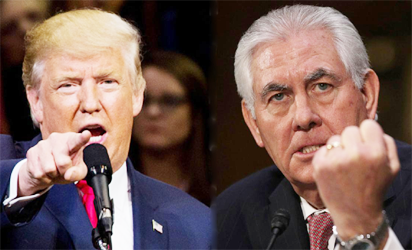 "Mike Pompeo, Director of the CIA, will become our new Secretary of State. He will do a fantastic job! Thank you to Rex Tillerson for his service! Gina Haspel will become the new Director of the CIA, and the first woman so chosen.
Congratulations to all!" Trump said on Twitter.
Newsmen report that Tillerson, who has had to cancel several events because of illness, will cut short his first diplomatic trip to Africa to return to Washington to deal with pressing matters, according to a report Monday.
​"Due to demands in the secretary's schedule, he is returning to the US one day early after concluding official meetings in Chad and Nigeria," Undersecretary of State Steve Goldstein told reporters, Reuters said.
​The US' top diplomat arrived for a five-country tour of Africa on Friday, a day after President Trump announced that he would meet with North Korean leader Kim Jong Un for a historic summit.​
Hi.S. allies in Europe.
​Tillerson, 65, canceled events in Kenya on Saturday because he became ill after working on North Korea and other matters for two days without sleep, Goldstein said. ​
Newsmen report that President Muhammadu Buhari on Monday met behind closed doors with Tillerson, at the Presidential Villa, Abuja.
NAN