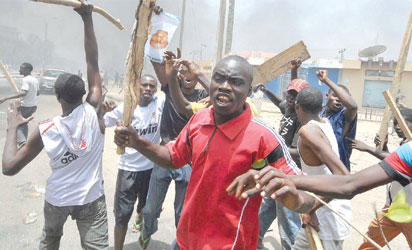 By Nwafor Sunday
The National President of Igbo Youth for Positive Change in Nigeria, Evang Chinedu Obigwe, on Tuesday called on the Federal Government to take the necessary measures that will stop the unlawful invasion of suspected thugs from Ibaji local government area of Kogi state to Eziagulu Otu Aguleri, Anambra state.
He made the call in Awka while condemning the attacks, noting that urgent action is needed from the federal government and its failure might lead to a reprisal attack from Aguleri youths.
"These attacks are becoming unbearable and provocative, thus if the APC led Federal government fails to nip the ugly situation in the bud, it might attract a reprisal attack from the peaceful Aguleri youths", he said.
Speaking further, Obigwe warned that the evil habit of attacking peaceful people can set Nigeria on fire and can as well threatens the unity of the country.
In his words, "Igbo will not tolerate the wasting of innocent blood in Igbo land again. Those fomenting trouble should stay away from Igbo land to avoid the situation ending in regrets.
"The security of lives and properties Governor Obiano's administration entrenched in Anambra State is being threatened with the violence being unleashed on the people of Eziagulu Otu Aguleri and Enugu Otu Aguleri.
"I am warning the Kogi youths to stop unleashing mayhem on the people of Eziagulu Otu Aguleri because if the people of the community are pushed to the wall they might resort to self defense for the protection of their lives and properties.
"Remember that no human has the monopoly of violence hence the reason why you should stop your attacks", he finally said.