UN Secretary-General António Guterres has welcomed the signing  of a Continental Free Trade Area agreement in Africa that has created one of the world's largest trading blocs with over 50 countries.
Guterres said on Thursday in New York that UN was ready to support Africa's 'leap into history' through the historic trade agreement.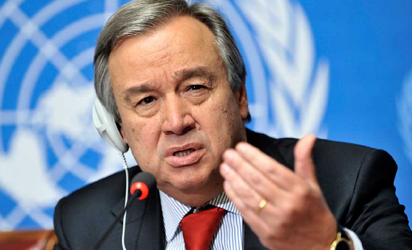 Guterres said: "I congratulate African leaders for taking the leap into history by signing the African Continental Free Trade Area.
"This is an important step towards achieving the Sustainable Development Goals (SDGs) and delivering on the African agenda of peace and prosperity."
The Secretary-General also underscored that the entire UN system stood ready to support the continent as it moved towards the entry into force of the Free Trade Area in the coming months.
He also applauded the leadership of President Paul Kagame of Rwanda, President Mahamadou Issoufou of Niger and the Chairperson of the African Union Commission, Moussa Faki Mahamat, who led the process for the agreement.
According to the UN Economic Commission for Africa (ECA), the UN's development arm in the region, the agreement has the potential to boost intra-African trade by 52.3 per cent.
ECA said the 52.3 per cent boost in intra-African trade would be achieved by  eliminating import duties, and to double this trade if non-tariff barriers are also reduced.
It is expected that the key beneficiary from the Free Trade Area will be Africa's small and medium sized enterprises, which account for 80 per cent of the region's businesses.
Others are women, who represent 70 per cent of the informal cross-border traders, and the youth, who would be able to find new employment opportunities.
NAN