Dayo Johnson Akure
PLANS are underway for an upward review of tuitions paid by students in the four tertiary institutions owed by the Ondo state government.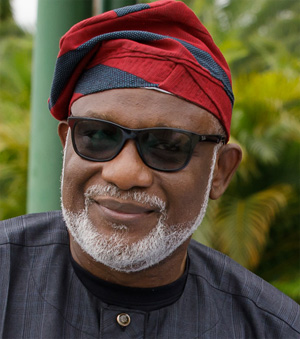 Indication to this effect became obvious Tuesday at the auguration of a governing councils of the four institutions by the governor, Rotimi Akeredolu in Akure.
Akeredolu challenged the new council members to come up with tuition fees payable by students of the institutions.
The institutions include the Adekunle Ajasin University, Akungba Akoko, University of Medical Sciences in Ondo, Ondo State University of Science and Technology, Okitipupa and the Rufus Giwa Polytechnic, Owo.
Governor Rotimi Akeredolu had insisted that the his administration would increase the fees across the institutions citing economic realities in the country.
He cleverly shifted the burden on the council members and assured them of government support.
He charged them "to discharge your responsibilities without fear.
Akeredolu said that what is paid in tertiary institution in the state was unable to maintain " even the water supply in the institutions.
" There is no where in the South West that student pay N35,000 as tuition fees. What can that do. This cannot even buy good pair of shoes. Whereas some people buy a pair of shoes as much as N150, 000.
" We challenge the newly appointed governing council of these four institutions to decide the way forward in this area.
" We are elected to take decisions and that decision we will take.
Akeredolu said that " The constitution of the Governing Councils of these institutions agrees with our determination to restructure the sector for positive contributions to the society.
"We cannot sustain an attitude which treats issues affecting the development of our youth with levity. We will be courageous in dealing with allidentified problems militating against the development in the sector.
"VisitationPanels were empaneled to look into matters affecting progress in these tertiary institutions.
"This Administration will implement, faithfully, all recommendations which will assist in the realization of the lofty objectives.
Also inuagurating the Chairman and members of the Ondo State Local Government Service Commission, the governor said "We are aware of issues of corruption and gross indiscipline at the Local Government.
"Of serious concern to us also is the issue of indolence and truancy. The integrity of the staff list is another matter which your Commission should look into, as a matter of urgency. You will be sending the right signal to all and sundry if the various complaints bordering on sharp practices are addressed and appropriate sanctions are applied, vigorously, against any erring staff.
"I have received reports on the criminal exactions on pensioners by some unscrupulous elements in the Commission.
The governor enjoined them "to use your good offices to ensure the speedy extermination of all aberrant attitudes which depict us as corrupt and wicked. End
.