By Soni Daniel, Northern Region Editor
in a move seen as bizarre and unbecoming of a public agency, authorities of the Kano International Airport have imposed fees on public toilets and bathrooms at the airport.
Vanguard also observed that the Kano International Airport has slammed categories of fees on its parking lot, in addition to toll fees collected at the gate.
Vanguard observed that the fee-attracting toilets and bathrooms are located at the car park of the airport.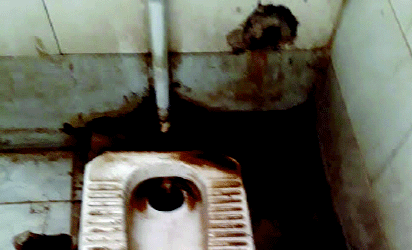 Vanguard correspondent, who disguised as a passenger in search of a toilet, was shown a range of fees to choose from and pay before being allowed into the dingy toilets and bathrooms, with leaking pipes and toilet bowls overflowing with faeces.
In each of the poorly-maintained toilets, which are buried on the floor to make it impossible for anyone to sit on, large flies welcome visitors with uncomfortable noise, as they latch freely on the users' bottoms.
Foul odour oozing from the toilets is also highly repulsive, but some travellers, who have no choice, have to patronise them with serious discomfort.
The serious deficiencies notwithstanding, a tall dark man, simply called Baba, stands at the entrance of the toilet to collect the prescribed fees before allowing users into them.
Fees
According to the fees pasted at the entrance of the toilet, the use of the facility for urination attracts a fee of N20; a visitor has to pay N50 for defecation and N100 for bathing.
The most worrisome aspect of the payment is that the user must come with the exact denomination to pay for the particular service they require, as the 'manager' always claims to have 'no change' to give for any amount outside the prescribed fees.
A top official of the Kano State Government, who wanted to use the toilet on Friday, was turned back on account of lack of 'change,' until he opted to donate the balance to the managers.
"We never knew that this type of abomination was going on in this airport," the angry government official complained to Vanguard and even drew his attention to the man collecting the illegal fees.
An attempt to speak with officials of Federal Airport Authority of Nigeria, FAAN, at the airport proved abortive, as none of them wanted to talk to Vanguard.