By Olasunkanmi Akoni
…Says: We 'll not tolerate street trading
Lagos State Government has urged shop owners at Tejuoso Market to take possession of their allotted shops or risk forfeiture to state government. According to the State Government, the unlawful act of trading on road medians and walkways at the market was responsible for traffic gridlock and accidents as well as abuse of children under school age.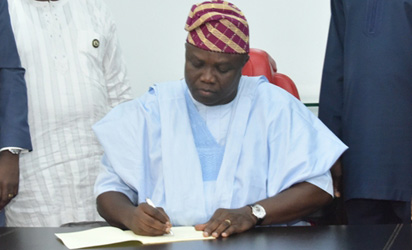 The state's Commissioner for Local Government and Community Affairs, Muslim Folami stated this during sensitization tour against streets trading, low occupancy of shops and Cleaner Lagos Initiative, CLI, held at Tejuosho Market, Surulere Local Government.
Folami said government would not condone traders' disobedience to the law banning street trading in the state.
According to him, "Street trading does not align with the vision and mission of the State Government for transiting from a Mega City to a Smart City. The  norm should be reversed in order to pave way for more even developmental strides by the government.
"We will not tolerate street trading, our roads and streets are not meant for trading. Any of the traders selling on the major roads neglecting the modern-day markets built by government is violating the State government laws, such traders are at risk.
"It is erroneous believe that selling on the streets is the best way to get patronage. We should be aware of the dangers associated with this practice especially to our sons and daughters; it is not safe for them, they can be abused" Folami stressed.