….Says 10% of women globally already has their careers jeopardized
By Destiny Eseaga
The Founder of Endo- Survivors International Foundation, ESIF, a non-profit organisation, Mrs. Olivia Nwankudu has expressed shock over the pains and sufferings women living with endometriosis  pass  through before help  comes  their way, saying that she is committed to reducing the infamous 10-year delay to endometriosis diagnosis.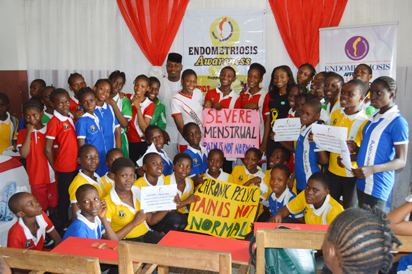 "Did you know that according to research, it takes an average of 10 years for a woman living with endometriosis to get a diagnosis? A whole decade!! So much can happen in 10 years and it is indeed a painfully long time to suffer in the dark without the promise of a diagnosis, cure or permanent relief. This delay in diagnosis is not peculiar to Nigeria because it prevails even in Europe, America, Asia and Australia and indeed, all over the world," Nwankudu said.
The pioneer of endometriosis education amongst adolescents in Nigeria, and in keeping with the theme of the International Women's Day, PressforProgress, opined that gender equality and gender parity might just not be achievable if women have to keep dealing with a healthcare system that has no definite cure for endometriosis.
According to her, endometriosis affects 1 out of 10 girls and women, meaning that 10 per cent of the womenfolk globally already have their careers jeopardised. "How does a woman living with chronic pain compete effectively for the same jobs with healthy men?" she asked with palpable passion in her voice.
Reasons for delay in endometriosis diagnosis
Explaining the reasons for the delay in endometriosis diagnosis, Nwankudu said:"The adolescent girls do not even know what normal menstruation should feel like and as a result, may be hesitant to report symptoms like killer cramps to the doctors. Secondly, many general practitioners miss out the diagnosis of endometriosis in adolescents because it mimics the symptoms of other diseases like irritable bowel syndrome, IBS and digestive problems. By the time the girl is ready to see a gynecologist, she is in her late 20s."
Early signs of endometriosis
Delivering a  lecture entitled: Endometriosis 101 to over 200 female students of Pholex Success Private School, Lagos, recently, Nwankudu encouraged the girl- child to listen to her body and dedicate a notebook where she can take note of all her menstrual cycles, pelvic pain, extreme discomfort, nausea or vomiting if experienced during their period- as these are early signs of endometriosis. She counselled: "Endometriosis cannot be diagnosed through an ultrasound, blood test or scan; the only way your doctor can make an informed suspicion is if you are able to give useful information regarding your menstruation and pelvic health. You can do this easily by using a note book to write it down dutifully every month." She explained that not every case of severe menstrual pain is endometriosis but it is better to have your pain checked by a doctor than to be ignorant which could be very costly.
Menstrual hygiene management
The endometriosis campaigner spoke extensively on menstrual hygiene management. She explained that  young women should practise simple hygiene  when menstruating like hand-washing after changing a sanitary towel, wearing a sanitary pad no longer than eight hours, flushing the toilet properly, care of underwear, proper disposal of sanitary towels and a lot more. In addition, the teenagers were given free sanitary pads and free copies of the organisation's Endometriosis 101 magazine, a timeless and must-have resource for every girl-child.
Nwankudu, called on well-meaning individuals, charities and businesses to collaborate with ESIF to help women living with this enervating, horrendous disease while raising self-advocates among girls, thereby helping them understand the symptoms of endometriosis.