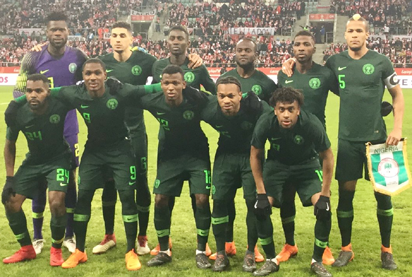 Super Eagles players pose for a picture before the match against Poland
Nigeria vs Serbia :  The Minister of Sports, Mr Solomon Dalong, said on Wednesday that the Federal Government was not disappointed with the 0 – 2 loss to Serbia in an international friendly played on Tuesday.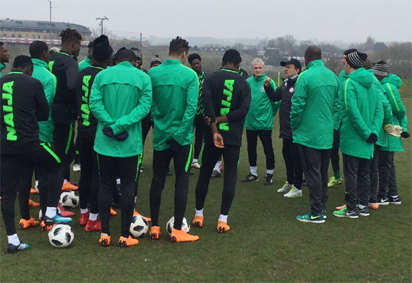 The Minister reacted to the result of the Nigeria vs Serbia match while briefing State House correspondents after the Federal Executive Council (FEC) meeting presided over by President Muhammadu Buhari.
According to him, the defeat has exposed the weaknesses of the team which they will strengthen before the beginning of the World Cup in Russia.
"Whether I am satisfied with the performance of the Super Eagles in view of their last defeat, I am quite confident.
"The process of qualification was not that very smooth; we must not win every match to be able to say that we are prepared.
"But ofcourse, challenges like the one we have also prepare us for the type of competition we are going to be engaged.
"So what happened with the 2 – 0 (against Serbia) has put us on our toes to go back to the drawing board and then try to look at areas of our weaknesses and strengthen on them.''
Serbia's Aleksander Mitrovic had scored two second half goals against the Super Eagles to deflate the teams long unbeaten record in its contest to qualify for the 2018 World Cup. (NAN)