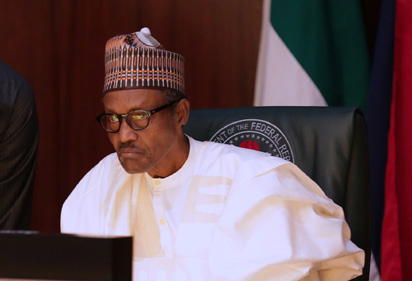 Buhari
By Johnbosco Agbakwuru
ABUJA—PRESIDENT Muhammadu Buahri, yesterday, in Abuja said the dwindling fortunes of the Lake Chad have contributed to the upsurge of terrorist activities as well as the constant clashes between farmers and herdsmen.
The President also stated that the shrinkage of Lake Chad was responsible for the instability in West Africa, saying youths were joining terrorist groups because of lack of jobs and difficult economic conditions.
Speaking at the high level meeting of International Conference on Lake Chad in Abuja, Buhari said there was urgent need for action to resuscitate it in order to save the lake from going into extinction.
He also urged the political leaders within the Lake Chad territory to show commitment toward reviving the lake, which he said was shrinking every day.
He said: "We must treat the issues of Lake Chad with the urgency they deserve and show the needed political commitment towards reviving the lake.
"Together, let us share this mission of rescuing Lake Chad Basin with a renewed vigour, determination and international collaboration as our inaction or delay will continue to accelerate the deteriorating standard of living of millions of our people with dire consequences on our continent and the World at large.
''The time to act is now. The time to bail out the region is now. The time to show our humanity is now."
President Buhari said the Lake Chad region was formerly an "oasis in the desert," a hub of economic activities and food security and that farmers, fishermen, herdsmen and traders were happy because business was booming, adding that the happiness and contentment contributed to the stability of the sub-region.
He, however, noted with regret that the lake, which was full of life with thriving business activities, has now become a shadow of itself because the water had dried up.
He said, "Unfortunately, today that is all history. The 'oasis in the desert' is just a desert now, due to the drying up of the Lake Chad. This has resulted in dire consequences for our people as follows:
''Fish varieties are long gone, leaving the fishermen jobless. Farmers and herdsmen struggle over the little water left. Herdsmen migrate in search of greener pastures, resulting in conflicts. Our youths are joining terrorist groups because of lack of jobs and difficult economic conditions.
''This has resulted in serious instability in the sub-region. The negative effects of the shrinkage of Lake Chad are indeed enormous."
The Presidents of Nigeria, Chad, Gabon, Niger and Central African Republic attended the high level international conference.