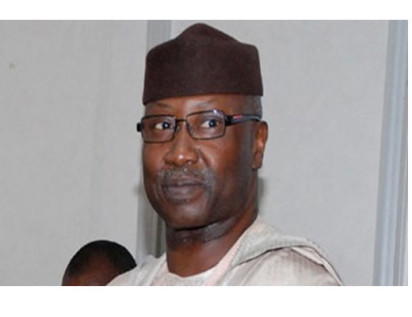 New NIWA MD, Boss Mustapha
Abuja – Boss Mustapha, Secretary to the Government of the Federation (SGF), has tasked unemployed youths to use the knowledge of Information Communication and Technology( ICT) to shift from job seekers to job creators.

Mustapha made the call on Thursday at a Round-table organised by the Bureau of Public Service Reforms (BPSR), with the theme: "Policy note to tackling youth unemployment in Nigeria'', in Abuja.
The SGF said the issue of unemployment was not just the administration's problem, saying Nigeria as a whole needed to be part of the solution.
"Youths are living in this unique moment of history and you must learn how to leverage ICT not just to update Facebook account but to close the knowledge gap,'' he said.
He said the greatest change youths needed to make was in their mind-set by transforming from being geopolitical youths to thinking nationally, globally and being drivers of change.
He said the issue of youth unemployment was one of the most serious challenges facing Nigeria today "and we clearly need an agenda for action to address youth unemployment challenges''.
"Our communities must get involve in tackling the youth unemployment problem, if we bury our heads in the sand, it will soon become our problem and beyond our remedy.
` `We owe the youths in Nigeria and we must work with determination to do everything possible to win this battle,'' he said.
Mustapha said the present administration had constituted an Inter- Ministerial Task Team (IMTT) to ensure the implementation of the outcome of the roundtable.
According to him, members of the IMTT will be drawn from Office of the Head of Service, Federal Ministry of Labour and Employment, Ministry of Finance, Office of the Vice President, CBN, NDE, and Nigeria Economic Summit Group.
Earlier, the acting Director-General of BPSR, Mr Dasuki Arabi, said the agency was committed to tackling the issue of unemployment in the country.
He said the Global Youth Development scored Nigeria 0.51 ranking 141 out of 183 countries.
He said between the first and third quarter of 2016, the economy created 422,133 net jobs, while 3.7 million people entered into labour market that same period.
"At the fourth quarter of 2016, 68 per cent of Nigeria's total population were unemployed and underemployed.
"In the next five years, the economy needs to create about three million jobs per annum to maintain the current unemployment rate of 14 per cent,'' he said.
Arabi said BPSR would organised series of induction programmes for board members of Federal Government agencies that were inaugurated as part of its efforts to strengthen strategic corporate governance. (NAN)