By Onozure Dania
Lagos—A lawyer Mr Mohammed Auwal Yinusa, who is a second defence witness in the ongoing trial of a Senior Advocate of Nigeria SAN,  Mr. Rickey Tarfa, over alleged offering of gratification, yesterday told a Lagos High Court sitting in Igbosere that the account in which the SAN, deposited N225, 000, belonged to him and not Justice Mohammed Nasir Yinusa.
The witness, who was testifying before Justice Adedayo  Akintoye,  told the court that he read in the newspapers that his Access Bank account number was quoted as belonging to the judge.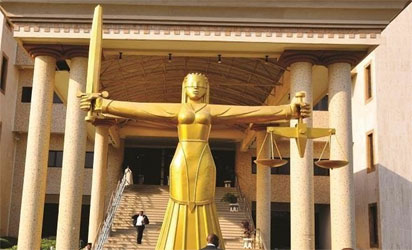 He said that he was the owner of the Access Bank account into which the N225,000 which Economic and Financial Crimes Commission, EFCC, claimed that Tarfa bribed a judge with, was paid, and not Justice Yinusa.
Yinusa said: "I found out that my Access Bank account was quoted in that publication. I was in a state of shock."
The witness noted that he rushed to his bank and obtained a certified true copy of his statement of account, which showed that it was indeed his account that was quoted by EFCC.
Yinusa said: "I was shocked, my Lord, because I am not a judge, I never received gratification from the defendant. My name is Mohammed Auwal Yinusa. The judge's name is Mohammed Nasir Yinusa. I am not related to him. He is from Yobe State, I am Igalla from Kogi State. Until recently when I saw him on television; I had never set my eyes on him."                                                                                                                                                                                                                           Yinusa, a former employee in Tarfa's chambers between 2011 and 2014, was led in evidence by Tarfa's counsel, Mr Abiodun Owonikoko SAN.                                                                               At the resumed hearing of the case, Yinusa informed the court that he left Tarfa's employment in 2014, for further studies abroad, following which the SAN gifted him N225,000 to support his education.
The EFCC had arraigned Tarfa on March 10, 2016 on a 27-count charge which was subsequently amended to 26 counts.