…destroys 20 buildings, as VC appeals for help
By Simon Ebegbulem
BENIN—Over 20 buildings at the University of Benin, UNIBEN, were, Sunday, destroyed by a rainstorm, with a Professor of English and Literature, Tony Afejuku, narrating how the disaster made him an internally-displaced person, IDP.
Some of the buildings affected are the Senate Chambers, Faculty of Engineering, Faculty of Environmental Sciences, 1000-capacity lecture hall, Faculty of Education and Faculty of Management, among others.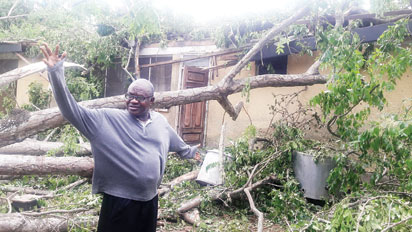 The Vice Chancellor of the university, Professor Faraday Orumnwense, who went on an on-the-spot assessment of the affected buildings, described the incident as devastating and appealed to well-meaning Nigerians and the National Emergency Management Agency, NEMA, to come to the institution's aid.
The VC said: "What we just witnessed is shocking; the damage is colossal. We never envisaged this: hostels, faculties and residence of our lecturers were affected. We are appealing to good-spirited Nigerians, state governments and NEMA to come to our rescue, because this is an emergency situation.
"We need to fix these buildings urgently because the rains are here. We do not want those affected and their families to be homeless; we are just appealing."
Professor Afejuku
Narrating his ordeal, Professor Afejuku, whose building was totally destroyed after a tree fell on it, said: "I was sitting under the tree, which I call tree of contemplation and meditation, reading 'Genocide Against the Igbos' when the heavy wind started.
"I decided to rush into the house. This was about 5:30p.m. on Sunday. Something told me to move and the next thing I heard was a bang in the building and the tree completely destroyed the entire building. Now I have become an internally-displaced person, IDP.
"The University Director of Works was here. I was also told that most of the new buildings in the university, including the Senate Chambers, were affected by the heavy downpour.
"I thank God I went inside the house. If not, the tree that fell would have killed me. I thank God nobody was killed inside the building; just the damage."