Exit polls in Russia's presidential election predict the return of Vladimir Putin for another six-year term.
A Russian state exit poll gave him 73.9 percent of the vote, easily defeating his closest competitor.
The result, which had been widely predicted, is a marked improvement from his 2012 victory.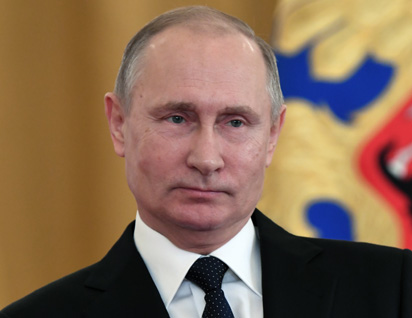 However, some election observers have warned of widespread cases of ballot stuffing and other irregularities.
Another term will take him to nearly a quarter century in power — a longevity among Kremlin leaders second only to Soviet dictator, Josef Stalin.
Many voters credit Putin, a 65-year-old former KGB spy, with standing up for Russia's interests in what they view as a hostile outside world.
Russia's annexation of Ukraine's Crimea region, alleged Kremlin meddling in the U.S. presidential election and Moscow's bombing campaign in Syria have been condemned in the West. But for most people at home, they have only burnished Putin's reputation as a strong leader.
A row with Britain over allegations the Kremlin used a nerve toxin to poison a Russian double agent in a sleepy English city has not dented Putin's standing.
"I voted for Putin," said Lyubov Kachan, a teacher in the settlement of Ust-Djeguta, in Southern Russia.
Meanwhile, British Foreign Secretary Boris Johnson said yesterday that Russia has been stockpiling the deadly nerve agent used to poison a Russian former double agent in England and has been investigating how such weapons can be used in assassinations.
Johnson said: "We actually have evidence within the last 10 years that Russia has not only been investigating the delivery of nerve agents for assassination, but has also been creating and stockpiling Novichok."