By Ben Agande
There was pandemonium in Narayi community of Kaduna State yesterday morning when protesters burnt down Celestial Church of Christ, Narayi, and a Police outpost in the area.
The protesters were reportedly angry over the death of 21 years old Sylvester Friday, who was working in the church before his death as they accused the pastor of the church, 78 years old Steven Shitu, of being responsible for the death.
The death occurred on Wednesday but police quickly put the pastor in protective custody because the protesters tried to lynch him. They alleged that the victim was used for ritual by the church pastor.
However, yesterday morning, the protesters gathered again, setting the church and the police station ablaze.
The police had already taken the pastor away from there and there were no casualties from the violence, it was gathered.
Confirming the incident, the Kaduna State Police Command Public Relations Officer, Aliyu Muktar, said five people were arrested in connection with the incident.
He said: "Yes it is true that some miscreants set ablaze a Celestial church and a police outpost in Narayi. The church was completely burnt but the police outpost was not burnt completely.
"The youths were angry that police gave the church pastor, 78 old Steven Babatunde Shitu, protective custody.
"They demanded for his release so as to lynch him. But our personnel refused to hand him over to them so they decided to take laws into their hands.
"Our men dispersed them on Wednesday but they regrouped around 4 a.m. yesterday to attack the church and the outpost. So far, five people have been arrested."
Mr. Muktar said normalcy has since returned to the area. He said the police will ensure all those involved are arrested and prosecuted.
Governor el-Rufai reacts
In a statement, spokesman of Governor Nasir el-Rufai, Samuel Aruwan, said: "It is wrong and illegal for anyone or group to take the law into their hands."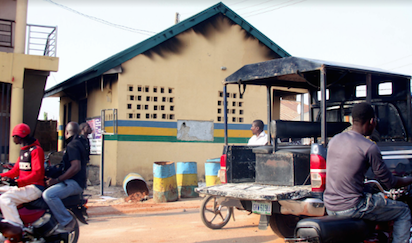 The governor also ordered an investigation into the labourer's death, which allegedly prompted the riotous conduct, as well as the apprehension of all those who partook in or enabled the acts of arson.
He said: "The pastor of the church, one Babatunde Shittu, was protected from being lynched by the mob by Police and some residents of the community."
Samuel Aruwan said the governor commiserated with the family of the deceased, but added that everyone who had concerns about the circumstances of his death will allow the law enforcement agencies to handle the matter.
He said Kaduna State Government will not tolerate attacks on places of worship and public property such as the Police post.