Abuja – The Minister of Youths and Sports, Solomon Dalung, on Thursday inaugurated a 13-man Main Organising Committee (MOC) for the 2018 National Sports Festival (NSF), billed for November in Abuja.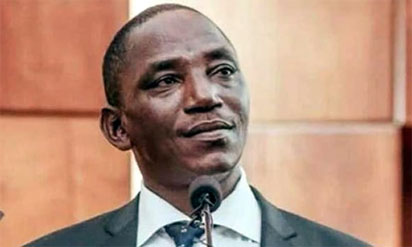 Inaugurating the committee in Abuja, Dalung said the event marked the beginning of another page in the history of the festival and sports development in Nigeria.
The National Council on Sports had in their meeting, held in February, withdrawn the hosting right of the 19th edition of the NSF from Cross River.
The withdrawal was due to the failure of the state to host the festival six years after it was granted the right to host the fiesta.
The council had in its meeting pleaded with the Federal Government to host the festival in Abuja to save the festival from collapse.
According to Dalung, the inauguration of the committee is evidence that the Federal Government has heeded the clarion call of the National Council on Sports.
"We have promptly put together the MOC to give direction and set the tone for the organisation of the 2018 NSF.
"I wish to put on record that this is not the first time the Federal Government will be hosting the festival, the first and second edition of the festival were hosted by the Federal Government in Lagos in 1973 and 1975.
"It is worthy to note that the orgainsation of the NSF is an enormous task that requires commitment and dedication, especially considering the fact that you have seven months to put everything in place for a successful festival.
Dalung said that he was confident that with the collaboration of the Federal Capital Authority and the Federal Ministry of Youths and Sports, organising the festival would not be insurmountable.
Dalung told the committee to package a festival that would not only be attractive to sponsors but that measure up to other international sporting events.
Responding on behalf of the committee members, the Permanent Secretary in the ministry, Olusade Adesola, promised to work with relevant organisations to deliver a successful NSF.
He said the committee would also ensure that it sourced for sponsors for the event, to sustain its hosting.
Members of the committee are the ministry's Director of Grassroots Sports Development, Ademola Are, Director, Federation and Elite Athletes Development, Tayo Oreweme and the Director, Finance and Accounts Department in the ministry, among others.
The Federal Capital Territory is scheduled to host the 19th edition of the NSF. (NAN)