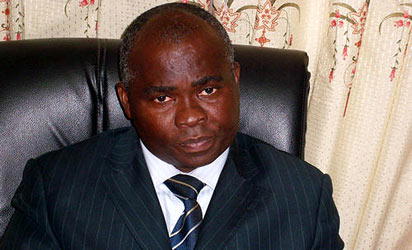 *Pastor LAZARUS MUOKA
By Muoka Lazarus
Beloved, one thing that is so sure and which makes our faith thick is that all sincere prayers made with a contrite spirit receive answers from God. God will do nothing in our favour with-out faith.
It is right that we should have confidence in him; and if we have confidence, it is easy for him to help us, and He willingly does it. In our weakness, we should go to God in prayer and though we may have no strength, yet His response will strengthen us, and make all things easy for us if we can believe.
Mark 11:21-24 says: "And Peter calling to remembrance saith unto him, Master, behold, the fig tree which thou cursedst is withered away.  And Jesus answering saith unto them, Have faith in God. For verily I say unto you, That whoso-ever shall say unto this mountain, Be thou removed, and be thou cast into the sea; and shall not doubt in his heart, but shall believe that those things which he saith shall come to pass; he shall have whatsoever he saith. Therefore I say unto you, What things soever ye desire, when ye pray, believe that ye receive them, and ye shall have them."
I want you to understand that as Christians, if you pray and believe you will get answers to your petitions. Righteousness season-ed with faith produces great and quick result. You must therefore keep away from sin because it hinders answer to prayers. No matter how little sin may appear yet it is destructive. Such sin as faithlessness, unbelief, unforgive-ness, complaining, murmuring, bitterness, etc could be a stumbl-ing block to our prayer.
Isaiah 59:1-3 says: "Behold, the LORD's hand is not shortened, that it cannot save; neither his ear heavy, that it cannot hear:  But your iniquities have separated between you and your God, and your sins have hid his face from you, that he will not hear. For your hands are defiled with blood, and your fingers with iniquity; your lips have spoken lies, your tongue hath mu-ttered perverseness."
If God withdraws from His people, refuses to answer their prayers and leaves them in darkness and affliction, it is not because He is unwilling to hear their prayers, or want of power to save them, but because of their unaddressed ini-quities and restitution. No one prays in sin and expects such prayers to be answered. Sin provokes God to anger and makes Him withdraw His gracious pre-sence from us.
Sin separates us not only from all good, but expose us to all evil which is the very essence of the curse. So, if you must pray, it must be with clean hands and cons-cience devoid of any sin. You must confess and renounce all known and unknown sins, flee from all appearances of evil and when you pray He will surely meet you at the points of your needs. Many have prayed and are still praying without answers to their prayers and hence if you must pray you must do so with purity of heart and holiness, so that answer shall be given to you by the Righteous God.
The Lord has assured us that whenever we call upon Him He will answer us.
Matthew 7:7-11 says: "Ask, and it shall be given you; seek, and ye shall find; knock, and it shall be opened unto you: For every one that asketh receiveth; and he that seeketh findeth; and to him that knocketh it shall be opened. Or what man is there of you, whom if his son ask bread, will he give him a stone? Or if he ask a fish, will he give him a serpent? If ye then, be-ing evil, know how to give good gifts unto your children, how much more shall your Father which is in Heaven give good things to them that ask him?
Pray according to the will of the living God and He will give you answers. God is an all-sufficient God, able to supply the wants of His creatures, if they call upon Him, and cry unto Him, provided they ask aright, and ask what is agreeable to God's will.
God glorifies himself through Christ by answering prayers brought to Him through the name of Jesus. Our confirmation of Christ's union with the Father is manifested in the efficacy of prayer made in His name.