Pope Francis urged young people on Monday to "take risks" to help the Catholic Church rejuvenate itself, a day before his new book on the subject is released in Italy.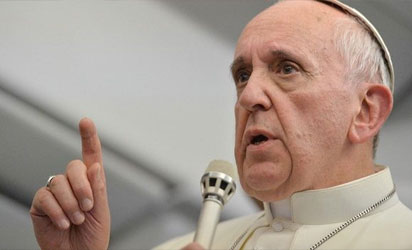 The 81-year-old pope addressed a meeting of 300 young believers at the start of a six-day event held ahead of October's Synod of Bishops, which will focus on young people.
"Without taking risks a young person ages, and the Church ages with them," he said.
The pope's new book, "God is Young", is also set to be published in English in time for the Synod.
It is based on a series of conversations between the pope and Italian journalist Thomas Leoncini.
At Monday's gathering, Francis fielded questions from youngsters from all over the world, including a Nigerian victim of people-trafficking.
October's Synod will discuss how to tackle a recruitment crisis in the church. Fewer and fewer young people are joining the priesthood or entering religious orders.
In his 160-page book, the pope talks about the marginalisation of young people and insecure working environments.
"We need to ask young people forgiveness because we don't always take them seriously," he writes.
"We don't always help them find their way or the tools that would allow them not to end up marginalised."