By Chioma Gabriel, Editor Special Features
As 2019 general elections approach fast, nationalities across Nigeria are strategizing and negotiating into the heart of the party under which platform they hope to realise their dreams. The Igbo whose position have been precarious in the Nigerian political landscape don't seem to know which way to go.
Igbos have been hoping for a day Nigeria will produce a president of southeast extraction. But they are not united. On top of it, Igbo play bad politics. They support others blindly and emotionally without negotiating, believing power will be given to them on a platter. Many politicians from the southeast appear to be under the illusion that after Buhari would have completed his tenure in 2023,it would be the turn of the Igbo.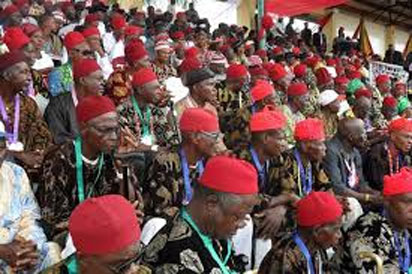 Igbos have missed so many chances. Since the return of democracy in 1999, the people seem to be groping in the dark. They have been waiting for their turn to produce the president of Nigeria.
Some believe that Dr Alex Ekwueme was betrayed at the PDP Jos convention when Dr. Olusegun Obasanjo was brought out of prison and imposed as PDP's presidential candidate. Some Igbo believe that it was akin to what they did to Dr Nnamdi Azikiwe in the first republic. After winning an election in Lagos, the table suddenly turned and he was out. He was betrayed overnight.
The Igbo need to deliver themselves from the 'almost there' syndrome.
Aside the great Dr Azikiwe and Dr Alex Ekwueme, the present crop of Igbo political leaders appear weak, lacking what it takes to negotiate profitably for their people.
Just towards the end of January,  a powerful delegation of Igbo APC leaders made up of  Ogbonnaya Onu, Minister of Science and Technology led a delegation to Buhari and endorsed him for another term in office. They said the president has done enough to merit a second term.
That delegation comprised Deputy Governor of Imo Stat Eze Madumere, who represented Rochas Okorocha, serving members of the national assembly, former governors, all the ministers from the south-east, members of the national working committee and national executive committee of the APC.
They endorsed Buhari without negotiating the terms of endorsement. What will Buhari do for Ndigbo if they support him in 2019? And the delegation was happy that the president was happy with them.
It was not the first time Igbo leaders would play daft.
During the time of Jonathan, the southeast blindly endorsed him without negotiating what would benefit the Igbo. Just like the delegation that met Buhari, the Igbo endorsed Jonathan before his party even did so. At the end of the day, Jonthan did nothing for them. He did not construct a single road in Igboland. He only rewarded individuals who backed him. As a matter of fact, he rolled back the Igbo presidency. Hence a politician like Chief Paul Unongo dared to say that Jonathan was the realisation of Igbo presidency.
By the time Jonathan was warming up for another term in office he made a million promises which he hoped would be fulfilled in his second term.
To strategize for this, former Anambra governor, Mr Peter Obi decamped from All Progressive Grand Alliance, APGA, to the PDP. And for Jonathan's second term in office,  Igbo leaders made up of then Secretary to the Federal Government, Chief Anyim Pius Anyim; Deputy Senate President, Ike Ekweremadu; then Deputy Speaker of the House of Representatives, Emeka Ihedioha;
Senator Hope Uzodinma; then Minister of Labour & Productivity, Emeka Wogu; then National Publicity Secretary PDP, Mr Olisa Metuh; Mr Ifeanyi Ubah and former Governor Peter Obi stormed Dover Hotel at Lekki Phase 1 Lagos to woo Ndigbo Lagos for President Goodluck Jonathan's 2015 presidential bid.
At Dover Hotel, they met eminent and prominent Igbo leaders, namely then President General Ohanaeze Ndigbo, Chief Gary Enwo-Igariwey; President Ndigbo Lagos, Professor Anya. O. Anya; President Aka Ikenga, Chief Goddy Uwazurike; former Chairman Diamond Bank, Chief Pascal Dozie; former Governor of Lagos State, Rear Admiral Ndubuisi Kanu(rtd); former President of Nigerian Stock Exchange, Dr Raymond Obieri; Eze Ndigbo of Ikeja, Eze Uche Dimgba and then President Ohanaeze Ndigbo Lagos, Fabian Onwughalu and many other eminent Igbos in Lagos. They campaigned support for Jonathan's second term in office.
But Jonathan lost the election. The south east also lost out. The Pharaoh who did not know 'Joseph' came into power and the fate of the south east deteriorated from playing third, fourth fiddle to playing no fiddle at all.
Ofcourse, nothing is wrong with endorsing President Buhari for another term in office if they felt his government was good but what is there for the Igbo whose leaders in APC went to endorse him? What were the terms and conditions of the endorsement? Will Buhari address the Igbo question?
Will he work for Igbo Presidency or even the good of the Igbo? This government has never spoken about an Igbo in a positive way. It has never made any promises, given juicy appointments or tried in any way to make the people happy. Each time an issue about the Igbo comes up, the people will be talked down on, intimidated and made to look foolish.
In the midst of these, their self-serving nature has not helped matters. They work for their private pockets.
The APC leaders who endorsed Buhari believe he will hand over to the southeast if they support him in 2019. Did they discuss that with him?  Or were they happy that the  South East has the least number of states in Nigeria, the least number of Senators, least number of House of Reps members, the least number of State House of Assembly members, least number of Ministers at the federal level, least revenue allocation, least federal presence or investment, least local governments, least wards and the least of everything in Nigeria?
And the endorsers came back commending Buhari on efforts he is making to ensure there is development in the south-east. What efforts? Railways were mapped out across states in Nigeria and south east got none. The south east did not get any position of consequence in the present administration. Did Buhari promise them better things in 2019? Will he make an Igbo man his running mate?
Will he give them the position of Secretary to the Government of the Federation,SGF? Will he reconstitute the security agencies to have at least two Igbo at the helm of affairs? Political appointments may not even matter. What projects will be cited in Igboland to create jobs? What development programmes will he consider for the South East?
Or don't Ndigbo have the resources and manpower to lead the nation? They should stop speaking from different sides of the mouth so as to become relevant in the political landscape of the country.
Unless the people are united, 2023 will be an illusion because the reckoning system has changed . In the past, it used to be Hausa , Yoruba, Igbo but now, its Hausa, Yoruba, South-South, then Igbo. Now, everybody denigrates, disregards and talks down on the people.  They have slipped from being one of Nigeria's largest and significant ethnic groups. After Azikiwe and Alex Ekwueme, the Igbo's political influence have reduced .
The pronounced disunity and infighting among the Igbo would make it difficult for them to make any kind of progress in politics. Those who went to endorse Buhari went for their own selfish reasons. These southeast APC leaders never showcased what Buhari promised the Igbo. From all indications, in the next 20 years, an Igbo man may not rule Nigeria. The people are known for playing bad politics.
Other major ethnic groups have schemed to dominate political power. The Igbo nation has failed to make its influence count politically at the centre since the country's return to democratic rule in the Fourth Republic. And even as the presidential candidates emerged, they have all carefully avoided picking an Igbo as deputy. They do not matter any more politically. Obasanjo picked Atiku. Yar'Adua picked Jonathan. Jonathan picked another northerner. The south east was nowhere. The Igbo was avoided like a plague.
When the pro-Biafra agitators started, the idea was to bring the Igbo question to the fore-front and many supported them but along the line, it was clear the agitation became a personal business enterprise of the leaders of the agitation.
The leader of Indigenous People of Biafra, IPOB, Mr Nnamdi Kanu started well,gathered support but shot himself on the knee when he left the Igbo question to start addressing inconsequential ethnic issues, and then transformed himself into a god that his followers now bowed down to kiss his feet, forgetting God is a jealous God.
He began to equate himself with The Christ and his followers began to say he was greater than the Christ. At that point, it was obvious he had lost control and Igbo elders looked the other way when he stopped listening to them.
They rest is history.
Igbos play the worst politics—Okorocha
Lamenting the position of Igbos in today's Nigeria, Imo State Governor, Rochas Okorocha  said that Igbo play the worst politics in Nigeria. It could be true but he is also playing a leading role in the wrong direction.
According to him, "Igbo have to change their strategy, in order to reclaim their relevance in Nigeria's power equation. Quote me anywhere, Igbo play the worst politics in Nigeria. Today, Hausa have realised they can win an election without Igbo. Now, they believe with the combined massive populations of Lagos and Kano, they no longer need Igbo to win, hence, the latest alliance between Hausa and Yoruba.
"So, where is Igbo today in Nigerian politics? I have always said Igbo have this feeling of abandonment. Check it out, no Hausa man living in the south-east owns a duplex neither can you see a Yoruba man who lives in a room and parlour apartment of his own or an investment worth N20 million in Igboland. But, should Nigeria break up today, Igbo will lose trillions in property and other investments in Lagos, the north and other parts of the country.
"The south-south has produced a president, the south-west has produced a president and vice president while the north has produced many presidents. IPOB activities created fears in the minds of Hausa and other ethnic nationalities in the country that once Igbo becomes president, they would secede".
There's nothing like Igbos turn to produce president—Chekwas Okorie
Founder of All Progressive Grand Alliance, APGA, and later United Progressive Party, UPP, Chief Chekwas Okorie reacting to the scenario expressed dismay over the political position of the Igbo in Nigeria.
Okorie told Saturday Vanguard: "It's been the concern of the mainstream Igbo leaders. The only time Ndigbo got something out of Nigeria was in the first and second republics because the great Zik and Ekwueme negotiated. Since then, nothing has happened to benefit Igbo in Nigeria.
It was for this reason that I founded APGA and practically dragged Dim Emeka Ojukwu to contest on its platform after others refused to contest. We supported the PDP presidential candidates in the time of Yar'Adua and Jonathan without negotiation.
Now, nobody has the courage to negotiate. But in UPP, we have incorporated restructuring and State police in our manifesto. We have zoned the presidency to the southeast. Our people have been talking about their turn since 1999 and it keeps shifting. Now, it has shifted to 2023.
This idea of turn is not in Nigerian constitution. Who told the Igbo that they will have their turn? The people should come out and contest election and negotiate their support for anybody. In UPP, Kingsley Moghalu said he will contest presidential election and UPP adopted him for 2019.
The only answer to the agitation is to contest. Former President Ibrahim Babangida said last year that he would support an Igbo who wants to contest presidential election. Presidency is not a community issue and its not a regional issue. Its something that needs somebody with courage. If Kingsley Moghalu does not chicken out, I'm sure all will be well."
Ambassador George Obiozor
In his own reaction to the Igbo question, former ambassador to the United States, George Obiozor said: "The Igbo thing is not about the Igbo being president.  Who told you that if an Igbo man becomes president, there will be no more problems? If the Igbo man is partial, if the Igbo man is parochial, if the Igbo man is biased, then the people will also vote against him.
What Nigeria needs is a great leader, a good leader. In fact, Nigeria has reached a point where the leadership of the country is not determined by where you come from but your ability in terms of what you can offer to the country, what you can do. If a leader is good, you don't even ask where he comes from.
"Countries that have good leaders don't even bother about where the leaders come from. But when a country has a problem such as we have and nothing is being done as quickly as possible as a response to the national crisis, then what do you think the people would do?
"Everything is lopsided in Nigeria. Take a look yourself at any institution you like and examine the level of equity in it. Look at the issue of federal revenue allocation. Look at the issue of revenue from oil and how it is shared. The details will shock you. Go and find the list of appointments in Nigeria in different areas. The list will shock you. Go and see even the list of retirements in Nigeria in some of the agencies. The list will shock you. So, the issue we are talking about is emanating from the failure of leadership and insensitivity in the way we do things.
"Every zone has six states but South-East has five. Is that good? And if they speak ,you'd say they are talking about marginalisation. A just leader will not leave things that way. If that visible difference is not marginalisation, then what is it? It affects everything else: revenue sharing, membership in the federal house, membership in the senate and everything affecting the south east. When the people are complaining, a good leader should look into what is going on and redress injustice whether it is real or imagined.
"The average Igbo knows he is suffering because the civil war of over 50 years ago never ended. There is no doubt that the war didn't end. It continued in other ways. People are asking what Igbos want in Nigeria and I tell you, Igbos want justice. People who ask what Igbos want are so prejudiced and narrow-minded.
What the Igbos want is unity but not unity of slaves and masters. "The leaders are failing the people, they are not speaking with one voice. People are putting the blame on them but you have to see that even these are victims of the system. And what voice are you looking for? A people cannot speak with one voice when they have been intimidated and frightened as the people of South East.
The South-East people have been frightened by the system. How can they control what they didn't create?? The Igbo and their leaders are victims of the system they find themselves. That is the lopsidedness of the federal system. The citizens of South-East are in near-permanent disadvantage. So, you have to look at the situation in a wholistic way."
Igbo are treated as conquered people—Mbazulike Amaechi
First Republic politician, Chief Mbazulike Amaechi had this to say: "More than any other race in Nigeria, the South-East, the Igbo have been dealt with especially since the end of the civil war. They were treated at all times as a conquered people. The Igbo have been treated as slaves. During the Shagari era, the South-East got a reprieve.
But simply because of a feeling that the South-East might get into power, Buhari staged a military coup and took over the government. Everybody knew it at that time. So, the Igbos have been treated as slaves in this country and it is time to put a stop to it because the other areas are beginning to sympathise with Igbos. Look, if we don't come to terms with the Igbo question, there will be a terrible implosion or explosion.
The people are  collectively suffering. They are collectively being punitively treated?They are victims. Even those who go to Abuja to collect hand-outs are all victims. They are suffering together."
Our problems started from not having free, fair and credible elections—Maria Okwor
An associate of Dr Nnamdi Azikiwe in the second republic and leader of the Igbo Women Assembly, Maria Okwor had this to say:  "What we had in the past worked better for us. I'm talking about regions and the time people like Dr Nnamdi Azikiwe and Awolowo held sway.
Every region developed at its own pace and contributed to the centre. Now, reverse is the case. They just gave you anything they liked from the centre. This presidential system that we operate today, I have always maintained that it is too wasteful and encourages corruption.
See what is happening in our country: imposition of candidates and leadership failure. Nigeria has not got it right with leadership. Nigerians are not allowed to choose the people they want to lead them. They just impose people on the electorate and when they assume office, they don't care about anybody except themselves, their families and friends.
Some will even tell you that whether you vote or not, a winner must emerge. We have been battling with square pegs in round holes. That is the origin of our problems. The South-East is on the spot. The situation is dicey. Igbo cannot continue being slaves in this country."