By Perez Brisibe & Paul Olayemi
JESSE—The burial reception in honour of a 111-years-old woman (name withheld) at Boboroku community of Jesse in Ethiope West Local Government Area of Delta State turned awry weekend, as a plain clothes policeman reportedly slumped and died during a clash between the community youth and a team of soldiers drafted from the 19 Battalion, Koko, to maintain peace.
It was gathered that there was rowdiness during the sharing of food and drink at the party and in the process some of the youth allegedly made attempts to disarm two soldiers, who had tried to restore orderliness.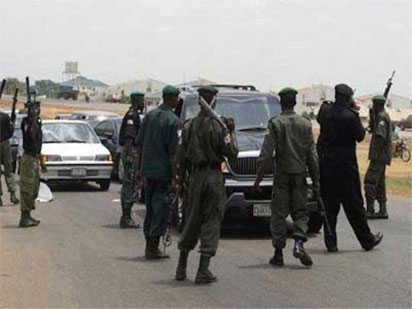 One person was reportedly shot on the leg as others sustained various degrees of injuries in the melee that ensued, while the windscreen and windows of at least five cars, including one hilux belonging to the soldiers, were also destroyed by the youths who went berserk over the incident.
Community sources disclosed that the late policeman simply identified as Imomoh, who resides in the community, was said to have tried to intervene during the rowdy session between the soldiers and the youths.
Giving details of the incident, a guest at the reception said: "The soldiers were called in to restore calm after the youths in the community tried to hijack food meant for guests at the reception."
The guest, who gave his name as Paul Amodu, said: "Vexed by the presence of the soldiers, the youths turned their anger on them, leading to fisticuffs amidst gunshots by the soldiers, during which Imomoh was said to have been hit by a bullet; he slumped and died."
Also speaking, a security source at the Sapele Area Command, said: "The death of the policeman who is a resident of the community, enraged the youths who went wild, attacking guests and destroying vehicles.
"The soldiers had to apply minimum force in trying to defend themselves by shooting into the air to scare the rampaging youths, who were trying to disarm them leading to the shooting of one person in the leg."
Confirming the clash, Delta State Police Public Relations Officer, DSP Andrew Ania-maka, described the incident as "quite unfortunate."