…set to host investors's forum
By Daud olatunji
ABEOKUTA-The Ogun State governor, Senator Ibikunle Amosun has said that his administration is planning to raise the bar of the state's Internally enerated Revenue from the present N7bn to N10bn monthly before 2019, when he would be completing his second term in office.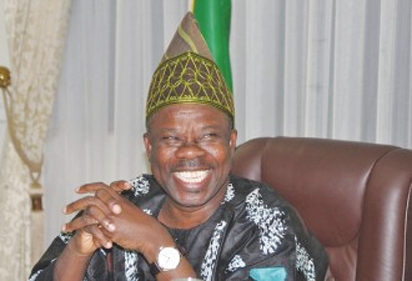 Amosun, said this on Tuesday in Abeokuta, at a press conference held ahead of the 4th edition of its annual investment Forum scheduled to hold between February 20 and February 21.
He said that the state monthly IGR which was N750 million when he came to power in 2011 had since increased to N 7bn.
Amosun explained that his administration would achieve this through agriculture, technology and industrialisation.
He attributed the increase to the success of the rebuilding mission embarked by his administration.
The governor who described the state as the industrial capital of Nigeria explained that his administration had, however, set N10 billion as the new target for its monthly IGR.
He explained that his administration had opened up Ogun for business after creating condusive environment which had continued to attract new businesses into the state.
He added that administration has embarked on a giant stride in industrialising the state through the provision of an enabling environment for business to thrive.
The governor recalled that Ogun which was in 2011 rated as 26th in terms of ease of doing business among Nigeria states by a World Bank Report, noted that the state had moved up to be the second best by 2014.
Amosun explained that about 304 new firms had since established businesses in the state.
He said 148 of these firms had each invested between $200 million and $2 billion in the state while the remaining 146 firms had each invested up to $50 million.
According to him, the state has now entered into a phase of consolidating its gains and accelerating its growth by focusing on key sectors of education, agriculture and technology.
He said the Investors' Forum would be attended by both local and foreign investors, adding that the programme would afford the state to showcase the vast investment opportunities in the state.
Speaking on this year's investors forum with the theme: 'Consolidating the gains, accelerating growth', the governor said a former President of Mexico and Nigeria's Vice-president, Prof. Yemi Osinbajo, are expected at the forum, where businessmen and women both within and outside the country would converge.
He said, "In the manufacturing business in Nigeria, we have diversified the economy for us to grow in Ogun State. The first thing, we have demonstrated thus with the investors and entrepreneurs. We have created an enabling environment for businesses to thrive.
"So, about 148 companies have opened shops and invested between $200m and $2bn in the last two years. Everyday, new investors come to us in a bid to establish their businesses here in Ogun State.
"But we want to take development and growth in Ogun State beyond the industrial hub of the country.
"When we came on board, we came with five cardinal programmes and thank God today, Ogun State is out of the doldrums. Things are now taking shapes. In the comity of states, in terms of IGR, Ogun State is second in position.
"Initially, upon assumption of office in 2011, we were generating N730m as IGR monthly but now, we are generating N7 billion monthly. We have the potential. We have large expanse of land. With agriculture, we want to leverage on value chains. And by the time my administration would be leaving I want us to be doing N10bn as IGR."
"Our aim is to consolidate all gains and to accelerate growth. We want to concentrate on what we have achieved. We want to exploit specific growth. We will collaborate with investors and entrepreneurs. In totality, we are looking at human endeavours. Of all these giant strides, we are proud of these developments in Ogun State", said Amosun.