By Henry Umoru
ABUJA— The Senate, yesterday, received the conference committee report on a bill to establish Nigerian Financial Intelligence Unit, NFIU, as an independent entity in an effort to avoid the country from being expelled from the Egmont Group.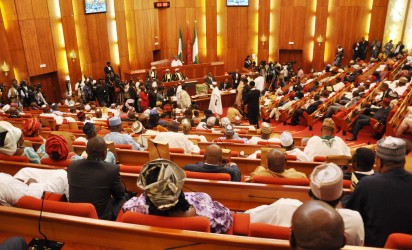 Receiving the report, submitted by Senator Chukwuka Utazi, Chairman, Senate Committee on Financial Crimes and Anti-Corruption, Deputy President of the Senate, Mr Ike Ekweremadu, said there was need to expedite action on it.
Ekweremadu commended the Senate and House of Representatives Committees on Financial Crimes and Anti-Corruption for the report, which will ensure that Nigeria was not expelled from the group.
The Egmont Group is a network of 152-member countries that share information relating to criminal intelligence and financial information.
The group had threatened to expel Nigeria permanently by March 11, if the Nigerian government failed to grant the unit the autonomy required to become its member.
Ekweremadu said the Senate will consider the report on Wednesday, saying: "It is a very important bill and I am happy that you have come into agreement with the House of Representatives.
"It is important that we consider the report tomorrow (today) so that Nigeria will be out of the suspension and be counted among the comity of nations in the EGMONT Group."
The Senate and House of Representatives had differed over the passage of the bill establishing the NFIU as an independent entity.
Utazi had raised a point of order, accusing the House of non-cooperation, warning that failure to pass the bill ahead of the next Egmont Group meeting will cause a major economic crisis for Nigeria.