By Kelechukwu Iruoma
PadTheGirl, an initiative founded by female corps members- serving in Lagos and focused on helping the girl child recently donated 1,000 sanitary pads to young girls in Igbologun community in Lagos State.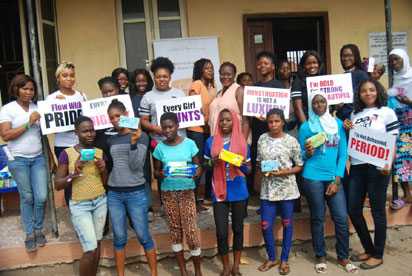 The Corps members explained that the idea was borne out of the desire to help solve one of the greatest challenges of the girl-child -lack of money to buy sanitary pads.
The  Director, Padthegirl,     Ms. Demilade Oyebanji,  explained that the PadTheGirl campaign was aimed at educating the girl child to embrace healthy measures during menstrual cycles. "I was taken aback when I heard girls use cotton wool, foams and pieces of clothes during menstruation."
"With the campaign, we distributed 1000 sanitary pads to young girls in
Igbologun, a communty in Snake Island. We also distributed sanitary pads to girls in Inagbe, a neighbouring village. By partnership with Cece-Yara Foundation and Chayil Woman Initiative, we educated the young girls on sexual abuse and organisations to contact when sexually abused, and on puberty and menstrual hygiene," she said.
Speaking, the Strategy Team Lead, Adaeze Okechukwu noted the unacceptable number of  pregnant teenagers and young people leaving with HIV/AIDS. "In the community, we noticed it is common place for young girls to engage in various sexual activities. This is essentially fuelled by high level of poverty," she said.
On her part, Dr. Jennifer Oshodi said the use of unsanitary methods will increase the risk of having infections, as rags and pieces of cloths tend to breed organisms (e.g bacteria), which can cause vaginal infections. If these infections are not treated well and in time, they can crawl up the reproductive tract and cause a pelvic inflammatory disease, which can cause infertility."
Esther Adedayo, a senior secondary school 2 student of Igbologun Secondary School was elated when she was gifted a pad. "I'm on my period now and it's a piece of cloth I am using. I have peelings (pointing to her private part). I also do have itches and rashes between my legs." Adebayo said she
Couldn't afford to buy pads that's why she uses pieces. "I want to thank PadTheGirl for the pads. It will help me avoid using pieces," she said.