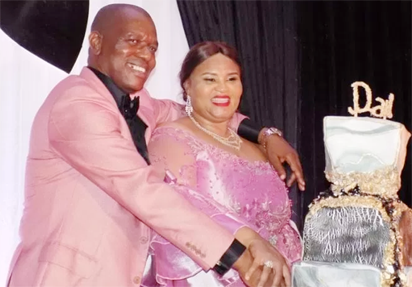 Ogheneovo Origho with wife, Phina
IT was triple celebrations for Mr. Peter Oghenovo Origho, a retired management staff of National Petroleum Investment Management Services, NAPIMS, a subsidiary of Nigerian National Petroleum Corporation, NNPC, as family members held a programme to mark the retirement, birthday and 30th marriage anniversary in his honour on February 24 at the Alliance Insurance Plc Event Centre, Lekki, Lagos.
Origho, visibly overwhelmed by the show of love, said: "Today, I feel great that my family is celebrating my birthday and retirement. This is what everyone prays for and, luckily, God has granted me the grace to witness this day.
"I grew up as a child, went through service and then retired honourably after 35 years and now I am aging gracefully. It is something I should thank God for and the secret is just that I am charting the will of God."
The highlight of the day's event was when his wife, Phina, came up with surprises to mark their 30 years of marriage. This, she did in a very romantic manner with artistic stage lighting, which came along with a dreamy stage dance with her husband of 30 years. She also unloaded a surprise birthday cake for their marriage anniversary apart from the gigantic cake that was already placed on podium for her husband's birthday/retirement party.
Origho's lovely children were not left out as they presented him a with life size art work with a motif of a man surrounded by women.
The retired NAPIMS chief, however, humorously explained that it does not mean he was surrounded by women in the negative sense. "Yes, I love women. I don't have a choice because I have four girls and, the last, a boy. I have just one boy, so that is why they said I am surrounded by women and I have been enjoying the women folk," he stated.
Speaking further, he said, "Again when you talk about gender sensitivity, you would appreciate the fact that you need a man that loves women, but it might not be on negative perspective."
Origho is currently a co-owner of the franchise called PLAMJ Hotels and Catering Services and the CEO of Rukena Energy Servicing Company.
His daughter, Mabel Origho, described her father as a man of numerous words who constantly dispenses pearls of wisdom whenever he has the opportunity.