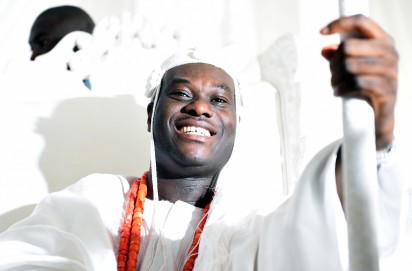 Ooni of Ife, Oba Adeyeye Enitan Ogunwusi sits for his coronation at Ile-Ife in southwest Nigeria, on December 7, 2015. 41-year-old multi-millionaire Adeyeye Enitan Ogunwusi, has been officially installed as the new Ooni of Ife. The monarch is the spiritual leader and the most influential traditional monarch among the Yoruba people of Nigeria's southwest .AFP
After weeks of intense planning, the organizers of the second edition of Ojaja II Talent Hunt show have announced dates for the auditions of this year's edition of the competition.
According to the organizers, while sale of forms commences on March 12, and runs till April 5, auditions come up in Lagos at Silver Cafe Lounge, Ozone Cinema, Yaba from April 9 through  10. In Ibadan, it will hold at Mauve 21 from 12 to 14, while the Ilorin and Akure auditions come up at Princess Luxury Hotel from April 16 to 17.
For Ekiti and Ondo states, interested participants will be auditioned from April 19 to 21 while April 23 to 25 will be for Oshogbo and Ile Ife residents at Plan B Lounge, Ile-Ife.
Speaking on this year's talent hunt which will be featuring top music artistes and producers, Director of the project, Olasoji Olatunde said that participants can register with a thousand naira, earning them a chance to go home with a star prize of one year recording and promotion in Nigeria and London, cash prize, scholarship to a music school as well as loads of other freebies.
According to Prince Babajide Fadairo, CEO House of Oduduwa (the Kabieesi's mouthpiece), the talent hunt is a further proof of His Imperial Majesty's commitment to youth development and empowerment.
He revealed that the show will spread across the seven Yoruba speaking states of the Federation, UK and the United States. Powered by His Imperial Majesty Ooni Adeyeye Enitan Ogunwusi Ojaja II, Ooni of Ife, the event is packaged by Nuff Jamz Entertainment run by Olasoji. The activities will open with a carnival on the 30th of  April and runs till May 5, while the grand finale comes up on May 6, at Ife Grand Resort and Leisure, Ile-Ife.