By Esther Onyegbula
One person was, Monday night, killed in a fight between rival cult groups over two girls' abduction, along Idimu Road, Alimosho Local Government Area, Lagos,.
Three other persons said to have been severely injured were still being treated at an undisclosed hospital around the area.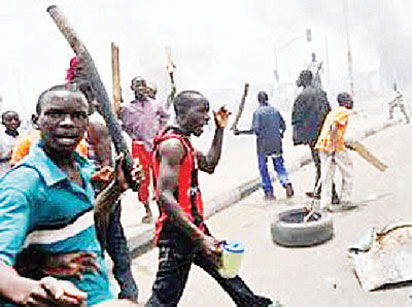 Vanguard gathered that trouble started on Sunday after two ladies, who had gone to watch a local boxing championship at Dantion, Orisubare area, were forcefully taken away by some youths suspected to be from Idimu.
The girls, according to residents of Idimu, were not released despite frantic efforts by their apprehensive parents. Residents alleged that some members of Eiye confraternity were responsible for the girls' abduction.
Determined to release them, some youths from Orisunbare, as gathered, stormed Idimu Road on Monday, where the suspected captors lived.
A resident, Jimoh Semiu, said: "The girls were taken away at Dantion, when they went to watch the annual boxing championship match.
"Last night (Monday night) some boys, armed with cutlasses, axes and gun, stormed the area and started firing. They started the fight from Isheri Roundabout to Oboye and Dorcas.
"They destroyed shops and shattered vehicles windscreens. Innocent persons that ran into them were injured. They also destroyed tricycles that were operating along Idimu Road.
"The first team of policemen that came could not contain the situation. They had to reinforce before the situation was checked. They killed somebody at Idimu Road, while three others are still in the hospital.
"They did not burn any house as speculated. It was the bonfire they made that people mistook for a house burning. But for the swift response of the Police, the situation could have been worse."