By Monsuru Olowoopejo
Former Federal Commissioner for Works, Femi Okunnu, Commissioner for Local Government and Community, Teslim Folami and President, Jama-at-ul Islamiyya of Nigeria, Taofeek Agbaje, have urged Muslim youths to engage in leadership quest that would propagate Islam, ensure actualization of national and personal goals.
They argued that the benefits they currently enjoyed were because present Muslim leaders, their parents, acted while they were young,  saying, they must also act now.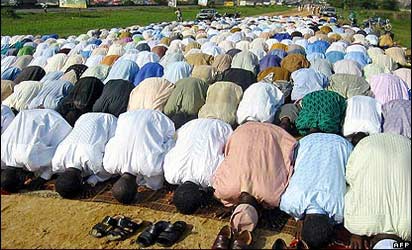 This was their appeal at the 10th Tri-ennial delegates' conference of Jama-at-ul Islamiyya of Nigeria, held at its national headquarters, Lagos, themed: 'Wither Nigeria.
While stressing the need for youths to rise up and contribute their quota to spread of Islam, Okunnu noted that they must eschew violence and stand up to receive leadership baton from present leaders who worked tirelessly to ensure spread of Islam.
While citing effort of the association founder, Imam L.B Agusto, the former federal commissioner opined that effort of the founding leaders of the association resulted into the benefits members that succeeded them were currently enjoying.
Folami, in his own submission, stated that the youths need to leave the streets and get involve Islamic and national issues for the country to develop.
He said: "We need to give the youth's skill acquisition to make them understand the importance of leadership because we have a huge problem of social vices. What we are doing is to take them off the streets. And that is why we often ask our contractors to engage the youths at their construction site. This is what we are doing to engage the youths in Lagos State."
Earlier, Agbaje lamented that leadership problem has plagued Nigeria, saying, this is one of the major challenge and problem we are encountering as a nation.
"I am really worried over the state of affairs of our nation. Everybody is seriously concerned about the security problems, poverty, unemployment and host of others bedeviling the country.
"I believe that there is no problem without a solution, and the scholars made us understand that Islam has proffered solutions to all circumstances and difficulties that may confront man politically and others.
"Prophet Muhammed (S.A.W) had demonstrated the best leadership traits and kindness towards his companions and the generality of the people, and likewise, the companions also demonstrated good followership by submitting totally to his authority," the President added.
During his lecture, the lecturer, Dr. Saheed Timehin, argued that youths must be sensitized to understand that no one would do it for them.
"They need to know that if they want a good future for themselves and their children, because they will populate this country with their offspring's.  They must wake up, act ideologically and understand challenges. After, they should act as group regardless of ethnic orientation."