By Anayo Okoli
UMUAHIA—OHANAEZE Youth Council, OYC, has stepped out in defence of the Deputy Senate President, Prof. Ike Ekweremadu over his comment on the floor of the Senate, in which he cautioned against threat to democracy on account of the attitude of some governors.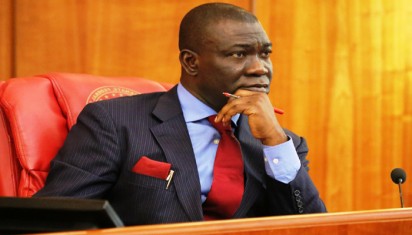 The Igbo youths warned that Ekweremadu should not be intimidated over his harmless contribution on an issue raised on the floor of the Senate.
OYC said Ekweremadu's statement on the issue was misinterpreted by "enemies of democracy."
Ekweremadu had, while contributing to a debate on the dictatorial attitude of some governors who harass lawmakers from their states, condemned such attitude as antithetical to democracy and warned politicians to be careful not to undermine democratic principles, which the military could capitalise on to seize government again.
Ohanaeze youths warned that any attempt to intimidate Ekweremadu over his sincere contribution and timely warning would be resisted by Igbo youths as there is nothing wrong with a lawmaker making sincere contribution on the floor of the senate.
OYC, in a statement issued  yesterday  in Umuahia, signed by its President-General, Mazi Okechukwu Isiguzoro and Secretary-General, Okwu Nnabuike, said Igbo youths would defend Ekweremadu with the last drop of their blood over the issue as "we did not see anything wrong in his innocent contribution in the Senate plenary session."
"We have followed with keen interest the controversies that have so far trailed a very honest statement made by the distinguished Deputy President of the Senate, Chief Ike Ekweremadu on the floor of the Senate. Without mincing words, all honest men and women in the country cannot feign ignorance over various abuses of the country's  laws by governments at various levels.
"Suffice it to say, therefore, that Ekweremadu merely stated the obvious by cautioning Nigerians not to take our much cherished democracy for granted.
"However, it is quite shocking that some enemies of democracy, the same kind of people Ekweremadu talked about have so misinterpreted his comments to mean that he is calling for a coup. What could be farther from the truth? Some mischief makers have even gone to the extent of calling for his arrest.
"We therefore warn sternly that Igbo youths will not sit and watch some idle minds disparage Ekweremadu for no just cause. For those calling for his arrest, they should be prepared to arrest him alongside millions of Igbo youths who are ready to defend him."