By Chioma Gabriel & Chinedu Adonu
LAGOS—PRESIDENT-General of Ohanaeze Ndigbo, Chief John Nnia Nwodo has condemned the quarrelsome approach of Biafra agitators, cautioning that the actualisation of Biafra will not come by fighting, quarreling, name calling or insulting of leaders and government officials.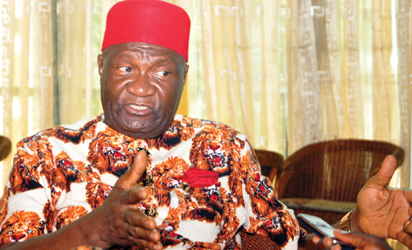 Nwodo stated this in Enugu, yesterday at a lecture organised by the Students Affairs Department of the University of Nigeria, Nsukka, UNN, College of Medicine, Ituku-Ozalla, Enugu.
Speaking at the lecture themed: "Excellence in Character and Learning as a Tool for Restoration of the Dignity of Man," the Ohanaeze leader said that for Biafra to be actualised, the agitators must adopt "political diplomacy."
Nwodo, who was chairman of the first excellence lecture series delivered by erudite scholar cum politician, Prof. Pat Utomi, opined that things could be changed through the ballot box and urged all and sundry to participate in the electoral process.
Biafra by political diplomacy
He said: "We cannot get Biafra by fighting and insulting people. We cannot get restructuring by shouting; we can get it through political diplomacy. I must tell you the truth."
The Ohanaeze president general who had recently accused INEC of secretly plotting to disenfranchise Ndigbo from participating actively in the forthcoming 2019 general elections by making it difficult for them to partake in the Continuous Voter Registration, CVR, urged everybody, especially Ndigbo, to obtain their voters card and be part of the electoral process.
Speaking earlier, Nwodo counselled the students and management of the College of Medicine to use the knowledge they  acquired to effect changes in the society, pointing out that most of the influential people in the world were not the brightest of students, but those that pursued their objectives to conquer.
Delivering the lecture, Prof. Utomi challenged the students to be committed to anything they are doing and never lose focus in order to achieve their dream.
He said: "If we do things with commitment, there is no stopping us. With the will to dare, if you can dream it, you can make it.   Seize every opportunity.   Do not procrastinate.   Nothing is impossible. It is only you that can stop you."
He urged the students to blend character with learning to be a wholesome man which in the long run would make for a wholesome society.
…laments killings in Ebonyi
Also yesterday, the apex Igbo body, Ohanaeze Ndigbo  expressed worry over  the continous killings by herdsmen in some parts of the country especially the recent killings by this group in Izzi Local Government of Ebonyi State.
In  a statement by Chuks Ibegbu, National Deputy Publicity Secretary of Ohanaeze, the group said: "This act  of   barbarism has to stop. The Federal Government has to go beyond verbal statements and be proactive on this matter that is capable of threatening the unity of the country.
"If these herdsmen have not been disarmed by now and the Police is telling licenced gun owners to surrender their guns, then something is wrong somewhere."