By Emma Amaize
UDU—THE Urhobo Liberation Force, ULF, an Urhobo militant group in Delta State, yesterday, warned that it was ready to return fire for fire if any Ijaw militant group bombed oil facilities in Urhobo land in connection with the land dispute between Ogbe-Ijoh and Aladja communities in Warri South-West and Udu Local Government Areas of the state.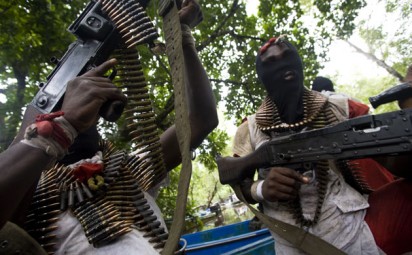 An Ijaw militant group, Supreme Egbesu Assembly, recently threatened to bomb oil facilities in the three Warri councils should the state government go ahead with its assumed template to settle the Ogbe-Ijoh/Aladja crisis.
ULF in a statement by self-styled "General" Orubu Ekpe, GOC, Operations and another, called on the state government to be firm on its decisions, saying:  "We vehemently resist any attempt to forcefully acquire the God-given land of the Aladja people by the Delta State Government under whatsoever pretence."
It warned that the safety of Ijaws in all Urhoboland and communities could not be guaranteed if Ijaw militants attacked Aladja again, adding: "ULF wishes to inform the Ijaw nation that nobody or group of persons have the monopoly of violence. Urhobo Liberation Force is ready to attack any group or people with equal measure of violence.
"Our initial reaction when we saw the publication was to ignore it, but we decided to write in order to set the records straight.
"There is no doubt that the Ogbe-Ijoh people are on an expansionist agenda, by forcibly masterminding the invasion and imminent takeover of Aladja land."