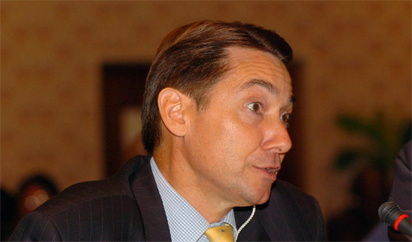 Gauer,
Abuja – Mr Denys Gauer, French Ambassador to Nigeria, says Nigerian Jollof, is his best food.
Jollof rice, is one of the most common dishes in the whole of West Africa.
The food which is believed to have originated from the region of Wollof speaking people, which happens to be northwestern Senegal, The Gambia, and southwestern coastal Mauritania, is arguably the best known African dish outside the continent.
Gauer, who spoke in Abuja on Thursday said, "Jollof rice is my best Nigerian food; maybe because I find it everywhere I go in Nigeria.''
The envoy said further that the country was blessed with rich cultural heritage that attracts foreigners, especially its food.
"I remember a year ago, when I attended the annual yam festival organised by the Ogidi community in Kogi.
"I had wonderful time and I saw and appreciated the display of their cultural performances especially the presentation of the new yam.
"The cultural display in the two days event showed that the festival was a moment to showcase the tourism potentials abundant in that area,'' he said.
Guaer, who spoke further on the state of the nation's tourism sector, said that basic infrastructures were needed to develop it.
He said that tourism was an income generating sector and would create job opportunities for the youths adding that, tourism was a contributing factor to France's GDP.
"Tourism and gastronomy (food) are very important sectors in France because it contributes to the GDP.
"The food sector is an art, it also contributes to the economy and it provides a lot of activities, jobs and wealth creation in the country.
"In Nigeria, tourism still remains under developed and there is a lot to be shown in the sector but it just a pity, because the infrastructure are still not in place.
"Nevertheless, Nigeria is progressing especially in the area of cuisines, because I notice there are more good restaurants here in Abuja, Lagos and other cities in the country.
"But, what the country needs is more vocational training and we hope with such events as "The chef's taste challenge'' and promotion, it would attract more people and create more interest in the sector.
The envoy added that, the teaming youths in the country can be engaged on studies about the art of cooking maybe in France or elsewhere.
He expressed optimism that the sector could be developed to generate jobs in Nigeria.
The envoy who spoke on the just concluded "The chef's taste challenge'' for chefs in Abuja and organized by the French Embassy, said most ingredients used at the event was locally sourced.
"We only imported some ingredients from France but a great lot of them are locally produced here in Nigeria.
"And precisely, what our winner chef Juleit Chioma, from Relais Café produced at the challenge was done with mainly local products.
"What that tells us it that, we can produce 'Chicken in the Pot' the winning dish, with Nigerian locally produce products,'' he said.(NAN)