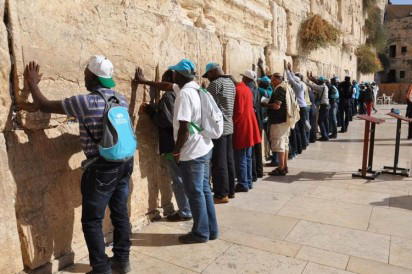 Pilgrims: Nigerian Christian Pilgrims and others from Other countries praying at Western Wall ( Wailing Wall) in Jerusalem, Israel .
Abuja – Pastor Yomi Kasali, Chairman, Board of the Nigeria Christian Pilgrim Commission (NCPC), has promised that the board would run an open door policy where all issues concerning the commission would be treated with fairness.
The new Chairman stated this at the maiden interactive meeting held at the headquarters with board and staff of the Commission on Tuesday in Abuja.
Kasali, also the General Overseer of the Foundation of Truth Assembly, Lagos, admonished the Staff to always maintain a high level of honour, integrity and commitment in the discharge of their duties.
"The board will run an open door policy and all I want is fairness, equity and just".
"I am a man of fairness. I judge with fairness because I want the Holy Ghost to lead my life.
"Let us treat men and women well because this is a Christian Organisation.
"I will affect you positively and you will affect me so that there will be justice at the end,'' he said.
He stressed the need for continuous engagement with the Staff to discourage speculations and gossips, saying he believes in appropriate engagement with people.
The Chairman further advised members of Staff to always support Rev. Tor Uja, Executive Secretary with a view to move the commission forward
He also advised that the board members should ensure that the commission runs with integrity and ensure that the welfare of Staff was not compromised.
The Pastor, however, stressed the need to rebrand the Commission for greater visibility and impact.
According to him, if the brand is strong, people will respect our Pilgrimage Process. We need to get people to know more about us.''
The Chairman explained that he would like the Commission to be run with the spirit of the Holy Bible where the spirit of the Lord shall rest upon every member of Staff.
In his remark, Rev. Uja, urged the Staff to give maximum cooperation to the new board.
He also charged them to give the new board the maximum honour needed and show a classical example of how a Christian establishment of this type should be run.
The Secretary to the Government of the Federation, Mr Boss Mustapha, formally inaugurated the board of NCPC on Feb. 27, 2018.
The News Agency of Nigeria (NAN) reports that NCPC's new board comprises of members from each of the six geo-political zones including the FCT.