By Abdulwahab Abdulah & Jane Echewodo
LAGOS—THE Ikeja Branch of the Nigerian Bar Association, NBA, yesterday promised to volunteer 3000 lawyers to defend anybody dragged to court by Lagos State Government   over the the reviewed Land Use Charge, LUC, introduced by the Governor Akinwunmi Ambode-led Lagos State government.
This came as the branch threatened another round of protest on  Friday, March 29, 2018,  describing the new law as "nothing but a fraud and a toxic charge. It urged Lagosians not to be in hurry to pay the charge.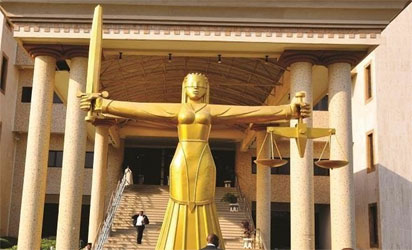 Its Chairman, Adesina Ogunlana at briefing tagged, 'Land Use Charge: Matters Arising: GATT Must Go',  insisted that the introduction of the charge was undemocratic, illegal, excessively oppressive, arbitrary and parochial.
Ogunlana, who frowned at the shabby way Ikeja NBA branch was allegedly treated by the state government during its protest tagged, 'Walk The Talk', argued   that sudden reduction of the charge by the state government was a sham.
According to Ogunlana, "In fact, we NBA Ikeja branch completely reject the reduction for being a sham, a calculated ploy to hoodwink the good people of Lagos State and to present the facade that here – Ambode government is a listening and sensitive government.
"The reduction is a sham, a farce and a fraud because, the rates prescribed now subjected to reduction is based on a fraudulently extractive foundation. There was no proper evaluation of properties. Property owners were never aware or involve in any evaluation of their properties. So what we had from government is ghost evaluation.
"So when the government says it is slashing cost, they are only deceiving people: the amounts prescribed are mere fantasies of their imagination. We reiterate our rejection of the Land Use Charge, high litigation cost in the court, borehole levies, car registration and all such other oppressive, illegal, extortionate charge of Lagos State.
"The Land Use Charge Law 2018 as known now must be repealed. Lagosians, from our own understanding and interactions are not against taxation in Lagos State and are not even against increase in taxation. However, the conditions for their acceptance of taxes are: transparent, gradual, reasonable and legally utilized. No Lagosian should be in any hurry to pay the Land Use Charge."
"No payment should be made until the government listens and bow to the people's will. Let the parliament  within 7 days from now publish in the papers the proposed draft of the Reviewed Land Use Charge Law of Lagos State for interested residents and stakeholders to study for adequate participation in public hearing that will proceed any amendment and which amendment should be delayed until May 2018.