Muslim women in the country have expressed displeasure over several ill-treatment that the society has subjected them to, saying 'women are reformists' and not sex objects.
The women spoke during the 2018 Sisters' Enlightenment Programme, organized by the Sisters' Circle of the Muslim Students' Society of Nigeria, Lagos State Area Unit held at the Lagos State Polytechnic, Isolo recently.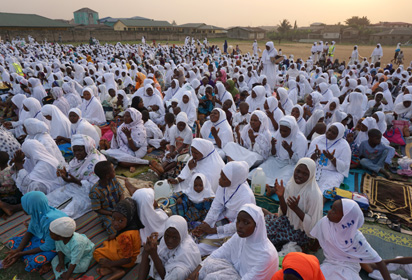 The SEP, which had about 2000 females in attendance, discussed issues affecting women in the society.
The head, (Amirah), Baseerah Majekodunmi, explained that there was need for awareness about key issues facing women in recent times.
"The 21st century woman has been subjected to a whole lot of ridicule in the society which is affecting her social standing. She is seen as a sex object, good for marketing products and also to satisfy lustful desires of men.
"In other climes, women are placed on a high pedestal, but here they seem to be valued for their bodies and not their brain. Although learning to love oneself could be a difficult and long road, we need to stop looking at other people and look at ourselves.
Former Women Leader of Nasrullahi-l-Fathi Society (NASFAT), Hajia Nafisat Arogundade, implored Muslim women to be good ambassadors, urging them to be righteous.
While speaking on the theme, 'In Her World', Proprietor of Pace Setters Academy, Ibadan, Toyyibah Abdul Salam, said children upbringing in the society is a critical role for the development of society.
She said, "A woman should be in the company of "Being a woman is an all-encompassing role. It demands that we uphold the correct tenets of Islam by our actions and in actions. We need to train ourselves to be unique individuals without conforming to the absurdities prevalent in our society." she stated.