Gov. Abiola Ajimobi of  Oyo State  says  his administration's support for the establishment of multi-door court house is  to  facilitate speedy dispensation of justice.
He spoke in Ibadan on Tuesday at  the inauguration of the Oyo State Multi-Door Court House within the premises of  the  State High Court.
Newsmen recall that the gove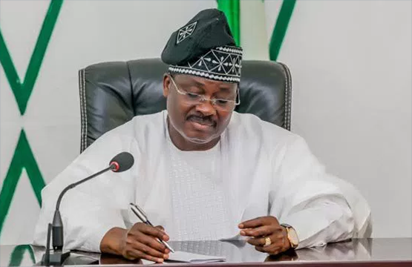 rnor had on Aug.  16, 2017,   directed the Commissioner for Justice to ensure the passage of the law to establish the multi-door court house.
Ajimobi said  the establishment of the court would serve as an alternative dispute resolution door for easier access to justice and decongestion of court dockets.
"The effort is to provide a credible alternative, that is, a constitutional route toward  dispute resolution and attainment of  justice.
"This effort will sustain societal harmony, preserve communal/family ties, protect commercial relationships and uphold our common bonds," he said.
The governor said that each of the judges in the High Court currently carries a case load of between 300  and  400.
"I am informed that 306 new civil cases have been filed by the disputants before the Oyo State High Court and 173 Criminal cases filed by the Ministry of Justice and the Police, "he said.
Ajimobi stated that the establishment of Multi-Door Court was to further reposition the state as a business destination where dispute resolution structures would be an attraction for more businesses.
He also said  that the facility and its structures would ensure that commercial disputes do not frustrate business goals and objectives by the resolution options being offered to litigants. .
The governor counselled the people on the need for attitudinal change, saying that no society could develop except its inhabitants embrace the best sets of attitude.
Mr Oluseun Abimbola, the State Attorney-General and Commissioner for Justice, said that the transformation initiative of government was  now focusing on the judiciary.
" The Oyo State Multi Court Law 2017 is an enabling law proposed by this administration as an executive bill to establish the Multi-door Court.
"This allows the High Court of Justice to deploy other dispute resolution channels other than litigation, thus transforming the State High Court to a Multidoor Court House," he said.
He stated that the law was aimed  at liberialising the dispute resolution space and promoting  access to justice for all residents.
The commissioner said that the efforts of the administration was in furtherance of the emphasis placed on peaceful coexistence and security in  the state.
NAN