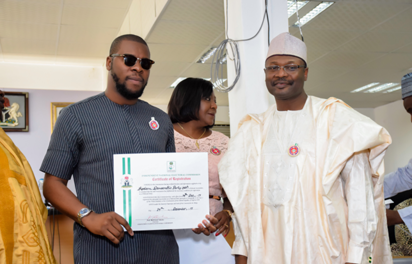 (L-R) Bukunyi Olateru-Olagbegi, youth activist and entrepreneur, representing Modern Democratic Party (MDP) and Mahmood Yakubu, Chairman, Independent National Electoral Commission (INEC) at the presentation of certificates of registration by the commission to newly-registered parties at the headquarters in Abuja.
With the 'Not Too Young To Run' Bill still pending approval by President Muhammadu Buhari, youths in Nigeria have began to position themselves for political leadership and active participation in the upcoming elections in 2019 and beyond, especially with the registration of the new Modern Democratic Party.
The new party, led by 27-year old activist and entrepreneur, Prince Bukunyi Olateru-Olagbegi, represents the new face of active youth involvement in politics. Recently registered by Nigeria's top electoral body, Independent National Electoral Commission (INEC), the party intends to galvanise youths into engaging in policy formulation, government accountability and running for political office.
According to Bukunyi Olateru-Olagbegi, the party belongs solely to Nigerians who yearn to see a difference in politics and governance. He explained that the mission of the party is to be home for those who are weary of the status quo and want to be part of something fresh, new, untainted and different.
"We are focused on harnessing the mental and physical resources of this unique generation of youth brimming with fresh ideas and innovations which will finally put Nigeria in its rightful place on the world stage," Olateru-Olagbegi said.
"We know that the journey ahead of us will be long. This is not a party registered for the 2019 presidential elections. We are here for the long haul and wish to call on all true patriots of our fatherland to get involved as we embark on this journey towards building Nigeria's first and truly Modern Democratic Party."
Last year, the Nigerian Senate passed the Not Too Young To Run Bill which seeks age reduction for elective officers in the country and allows the youths an opportunity to contest for the office of the president at the age of 35, and governor or senator at the age of 30.
As young people across the country are calling on President Buhari to assent to the bill, the Modern Democratic Party has gone ahead to unveil its manifesto and planned activities in preparation for next year's general elections.