By Emmanuel Elebeke
ABUJA—The Federal Government has inaugurated the boards of 17 parastatals and agencies under the ministry of Science and Technology.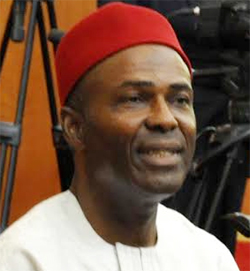 The minister, Dr. Ogbonnaya Onu,  while inaugurating the new boards charged them not to abuse the confidence reposed in them by the president and see their appointments as a call to national service. He challenged them to do their best  at all times and never let the president down.
He noted the crucial role science, technology and innovation play in nation building which he said is being positioned to for development of Nigeria.
''I am confident that the confidence reposed in every one of you by Mr. president will not be misplaced. It is a duty. It is also a responsibility which we must work hard to discharge in the interest of our beloved country.
''Let me affirm that the Federal Ministry of Science and Technology is determined to help Nigeria become a prosperous nation. It is our conviction that unless we continue to work  hard and remain committed to the task of diversifying our economy,  science, technology and innovation will not play the role expected of it. This will enable us create jobs, strengthen the economy and reclaim our national pride.