By Joseph Erunke
ABUJA—THE Nigerian military authorities yesterday said that contrary to the cautionary advice of the Deputy Senate President, Ike Ekweremadu during Wednesday's Senate plenary that the military could still stage coup in the face of receding democratic practice in the country, there was no such contemplation from any quarter.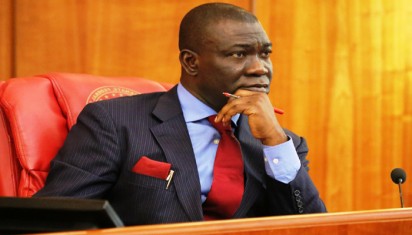 To this end,it urged Nigerians to disregard the apprehension raised by the Deputy Senate President in its entirety.
The Defence Headquarters, DHQ,which disclosed this in a statement,through its spokesman,Brigadier General John Agim,said the present men and  officers in the Nigerian military were thorough professionals with no ambition in politics whatsoever.
The DHQ said the statement of Senator Ekweremadu even as it appeared "cautionary and sincere in the atmosphere of discourse"was" however derogatory to the Army and by extension to the Armed Forces of Nigeria."
While reiterating that the military was in complete and total subordination to democratic governance,the DHQ said:"Shortly, after the transition from a military to a democratically elected government in 1999, officers of the Armed Forces of Nigeria, who were quasi-political, were honourably eased out of service.
" This was done to avoid indoctrination of other officers in the military in order to enable the democratic government commence a re-professionalisation process of the Armed Forces," it explained.
It added: "By 2009, from the basic military training institutions through units and formation reorientation programmes to top management workshops and seminars for the military, it became clear that the Armed Forces of Nigeria has been re-professionalised to be totally subordinate to political leadership and democracy in the country.
"Furthermore, the present crop of personnel in the Armed Forces of Nigeria right from the Service Chiefs to the men are made up of the balance of re-professionalised officers and fresh intakes from 1999, who do not nurse political ambitions.   They are fully committed to their oaths of allegiance to serve their fatherland Nigeria, with total submission to our democratic government."