By Perez Brisibe
UGHELLI—THERE was a mild drama on Sunday evening at the Ughelli 'A' Division Police Station, when a man who claimed to have apprehended a fleeing robbery suspect, stormed the station and demanded N500,000 as gratification for his feat.
The Police, while responding to a distress call, had stormed the scene of the robbery operation along Aroh Road, Ughelli last Sunday, killed two of the suspected robbers, while two others were said to have escaped.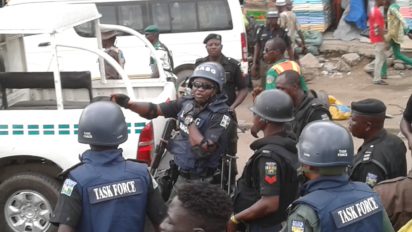 Later, one of the escapees was apprehended by the man, who refused to give out his name.
On hearing that the third suspect died on his way to the hospital, the man stormed the police station demanding to be compensated for his achievement.
On how he apprehended the suspect, the man said: "I came outside my house to urinate when I started hearing people shouting 'thief'.
"When I looked back, I saw the suspect running towards me. I immediately grabbed him with both hands and we both fell to the ground.
"While holding him to the ground, he pleaded that I let him go with a promise that  he will immediately transfer N500,000 to my account.
"I declined, only to hear that he died on his way to the hospital. I am here so that the Police will find me something."
However, he left the police station without a dime, but a "thank you for a job well-done" by a senior police officer at the station.