By Dapo Akinrefon
THINGS are no longer at ease in the People's Democratic Party, PDP, in Lagos State.
The state chairman of the party, Mr. Moshood Salvador is no longer in the good books of some of the party leaders, who opine that it is time for him to call it quits.
Interestingly, Salvador, a stooge of Chief Olabode George, has refused to throw in the towel.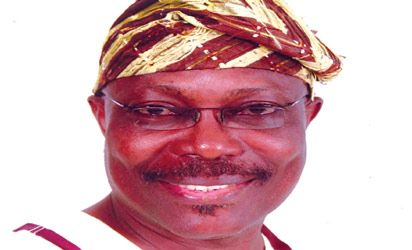 Last week, some leaders of the party, headed by its former organising secretary, Chief Taiwo Kuye converged in Ikorodu to move a motion to remove Salvador from office.
One of the many sins of the embattled chairman was his refusal to implement the party's 65-35 percentage appointment agreed by Ahmed Makarfi and Modu Sheriff-led factions.
The agreement reached was that the Makarfi-led faction should be given 65 per cent of appointment while Sheriff-led faction should be given 35 per cent, but party members said Salvador is giving less appointment to Makarfi-led faction.
Chief Kuye, who is leading the pack, moved a vote of no confidence on the embattled chairman insisting that since he has refused to exit the scene, "Salvador must go."
A former state deputy chairman of the party, Chief Ola Apena, who has a score to settle with Salvador, accused the chairman of being a saboteur.
Apena insisted that: "We must go back to 65 per cent. The fight has just started. Salvador is a saboteur and a betrayer. I noticed he did not want Chief Bode George to be the PDP National Chairman, he worked against him (Chief George)."
The PDP chairman in Ajeromi-Ifelodun Local Government Area, Evangelist Israel Ogunrinde, said: "Salvador is no more our chairman. Anything short of 65-35 is a lie. No local government was given any representative. It is a fraud. Salvador is no more our chairman."
We don't know them —Salvador
When contacted, Salvador denied the party leaders saying they are alien to him.
The embattled chairman said: "We don't know the people you're talking about. Our party is moving. All Progressives Congress (APC) cannot sponsor some miscreants. If anybody believes he/she can cause crisis in our party, it won't work."
Ogunlewe calls for calm
Meanwhile, a former Minister of Works, Senator Adeseye Ogunlewe has called on the warring parties to sheathe their swords.
Reacting to the parallel events by the Moshood Salvador-led executive and another group, he warned that the party could not realise its objective of capturing the state in 2019 if members were working at cross purposes.
The party chieftain said: "The PDP members in the state need to work in unity with one another to achieve our objectives in the state. Election is around the corner. This is a time for unity and not for fight or discord.
"Personally, I see the same people in Ikeja and Ikorodu rallies as the same PDP.
"Yes, there are disagreements which are normal in a democracy but we will sort ourselves out."