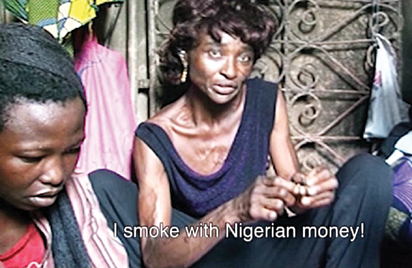 By Chris Onuoha
CHIEF OLAGUNDOYE DAVIES, an interviewee in the TV documentary, My Lagos Diaries, is the Baale of Oju Oluwa community in Yaba, popularly known as Fela's former Empire. The Baale is worried that the drug habit of the late Afrobeat king and his lifestyle still pervade the vicinity.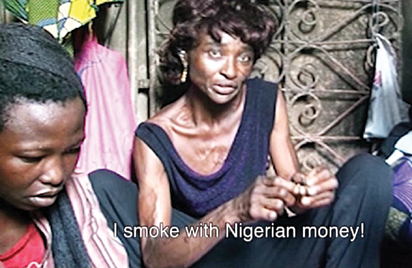 "This place is known as 'Empire' because of Fela Anikulapo Kuti who had his musical base at that time here. The original name is Oju Oluwa, in Ojuelegba area. Because of Fela's lifestyle, several people who smoke Igbo (marijuana) are still seen here.
"They smoke it freely without fear of security personnel. Here is the headquarters of cocaine, heroin and marijuana. Before, you dare not look for accommodation here.  People will advise you against it. It was terrible," says Chief Olagundoye in the TV documentary project done by Freedom Foundation, a not-for-profit organisation based in Nigeria.
Freedom Foundation is on a mission to reach the society's forgotten ones and to rescue drug addicts who lurk around the Empire and other such places.
Chief Olagundoye Davies is now happy with the Freedom Foundation rescue project. He wants the Federal Government and private organisations that are into humanitarian works to come and help the under-aged children, teenagers and women that are hooked to drugs in this area and other areas notorious for drugs.
My Lagos Diaries, a docu-series was premiered recently at a box office in Lagos and is currently airing on some Nigerian TV stations. The film seeks to bring to the nation's attention what had been ignored by the society. At the heart of this documentary, with its aim of creating awareness, sensitizing and educating the populace on the dangers drugs pose to society, is the fact that behind the drug addict is a soul that yearns for a normal life and in desperate need for help.
Unfortunately, society views drug addiction as a social vice from which addicts ought to easily pull out, but the truth is that drug abuse is just about as difficult to quit as it is easy to fall into.
These drug addicts who desperately need help are stuck in areas where help is hard to reach – ghettos, Motor Parks and sometimes in the middle of highbrow areas.
According to a recent report titled Sending the right message on drug use and dependence from the United Nations Office on Drugs and Crime, "too often, in existing legislative and administrative frameworks, drug use is treated as a criminal act rather than a health challenge which reinforces stigmatisation towards drug users and lowers the expectations of their recovery and reintegration into the society."
It is against this backdrop and in an ongoing journey that began in 2006 that Freedom Foundation Outreach in conjunction with the God Bless Nigeria team dared to go where no one else would or think of going within Lagos in search of drug addicts with the aim of rehabilitating them.
The areas are among the poorest communities in Lagos – Bariga, Somolu, Iwaya, Ejigbo, Ijora, Ajegunle, Ikpodo-Ikeja and others.
On getting to these areas, Freedom Foundation team discovered strange things. "What we found here is heart-wrenching and mind-numbing. People living in squalor, hooked and dealing in hard drugs, teenage girls in prostitution. Some of them with pathetic stories of abandonement and rejections from homes."
This is a true life story in documentary series on how these addicts get hooked in the first place. The series also documented how they were followed through rehabilitation, a period of relapse and persistent effort to bring them out of the situation."
My Lagos Diaries documentary teaches that few people in the society realise that drug addicts, whom people deride, are victims of circumstances who desperately need help and want to come out of it. "Many of them do not know how they found themselves there, while some were lured into addiction by either addicted friends or through peer experimental inclination."
The project is a response to the cry to which society has been deaf. "The victim is someone else's sister, brother, father, mother or even bosom friend. Society is losing human assets to addiction. Many people who are engaged in promising careers or on the verge of making it big in life have been ruined by drug addiction.
In the first episode, Fatima, a thriving businesswoman spiraled to a life of drug abuse after she was introduced to it by a lover. In the process of pandering to her addiction, she sold her cars. When the proceeds from the cars proved insufficient in maintaining her addiction, she descended to petty theft just to get her next high. Her situation kept degenerating until she could no longer afford a roof over her head. Fatima becomes homeless and resorted to living in the streets. It was then that she realised that her situation was helpless.
The Freedom Foundation eventually found her and made tremendous strides in helping her get clean, but tragedy struck not once but twice in the space of three years. She suffered relapses and returned to the life she had bid farewell.
You may be right to assume it was a personal thing with her and that she really didn't want to quit, but the same thing happened to Sunday, another victim, a dedicated family man until he encountered the dreaded 'White Sugar' (cocaine).
Sunday shoots his veins until his own mother abandons him and takes responsibility for his children. Even after getting clean, a momentary relapse occurs and Sunday sees himself return to the same pit he had steered clear for two years.
These clips are true picture of many people within our neighbourhoods who are today, victims of drug and who may not find any way of getting out of it. Even when the spirit is willing, the body being the recipient and jolly good friend of the substance, will be too weak to resist.
Meanwhile, through relapse therapy and psychological intervention by the Freedom Foundation, Sunday and Fatima have been clean for years and are very well on the path to social reintegration. My Lagos Diaries continues to show the warm soft sides to the cold hard facts of drug addicts. It's obvious that this predator live among us. As the effort of this organisation is worthwile, many cases are still seeking attention in the remote areas of the country.
The documentary series shows on Saturdays on Silverbird TV, 7:30pm. Sundays on AIT by 6:30pm, TVC by 9:30pm and Ebonylife by 3pm.