By Udeme Akpan
Lack of funds, double taxation and other factors have been identified as the major challenges affecting Nigeria's Liquefied Petroleum Gas, LPG sector.
In an interview with Sweetcrude, Mr.Nuhu Yakubu, the President of the Nigeria Liquefied Petroleum Gas Association (NLPGA), indicated that: ''Most banks don't fund LPG projects, due to their limited understanding of the business. And for the few that do, investors in LPG usually encounter delayed processing of bank credit, for LPG business project start up or expansion.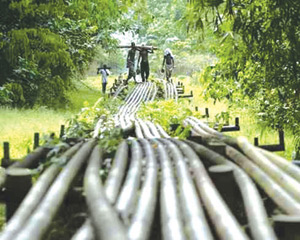 ''Even when such facility exist in some banks, and available for disbursement, bank acceptable collaterisation requirements do most times pose as huge challenges, once again, because the funding institutions are largely not very conversant with the LPG sector.
''Banks are more inclined to asking for landed property, rather than LPG plant as loan collateral. This is however gradually changing, with the new CBN policy which encourages banks to consider credit applications, relying on the specialized equipment being financed as the applicable collateral.
''Double taxation has been a huge issue the industry practitioners have been faced with. There is a somewhat discriminatory tax policy against LPG, compared to other petroleum products. For example, VAT is applicable to domestic LPG, while it's exempted for imported LPG, And worse, PMS, kerosene etc are equally exempted from VAT."
He also added that: ''Moreover, the federal government subsidy support for competing, yet dirty fuels kerosene is seriously hurting LPG and stunting its growth, in spite of its huge potentials.
''It's hard to run favourable LPG project economics comparative to subsidized kerosene and petrol. This has not helped the growth of autogas and power generation relying on LPG.  The industry and government are however now seriously engaged towards finding lasting solutions, and the recent Federal Executive Council approved LPG policy is certainly a step in the right direction.
''Full deregulation of petroleum downstream, as encapsulated in the yet to be passed petroleum Industry Bill, PIB, to enable foreign capital inflow for massive infrastructure build out, reduction in Customs import duty and sundry port charges for LPG equipment, removal of Value Added Tax, VAT on LPG. These are few of the quick measures that can help catalyse LPG growth in Nigeria."