Justice Hussein Baba-Yusuf of an FCT High Court on Thursday appealed to the lawyers involved in the two case filed against former National Security Adviser, retired Col Sambo Dasuki to cooperate with one another with a view to allowing the cases go on smoothly in order for justice to prevail.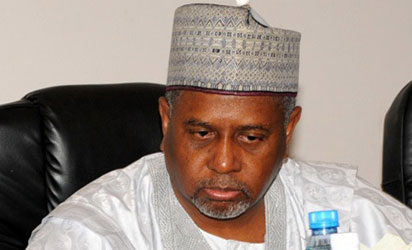 Baba-Yusuf, made the call after fixing May 2 and May 3, and May 17 and May 18, for continuation of hearing in the two cases involving Dasuki.
According to him, all counsel, as ministers in the temple of justice, ought to do away with sentiments for them to do their work as legal practitioners, more so that they were all reputable lawyers.
Dasuki is facing trial alongside a former Director of Finance and Administration, Office of the National Security Adviser (ONSA), Shuaibu Salisu; a former General Manager, Nigerian National Petroleum Corporation (NNPC), Aminu Baba-kusa and two firms: Acacia Holdings Limited and Reliance Referral Hospital Limited.
They are arraigned by the EFCC on a 19-count charge bordering on money laundering and breach of trust to the tune of N13.5billion.
In another case, Dasuki was arraigned together with a former Minister of State for Finance, Amb. Bashir Yuguda; a former Director of Finance and Administration in the ONSA, Shuaibu Salisu; a former governor of Sokoto State, Alhaji Attahiru Bafarawa, his son, Sagir and their family company, Dalhatu Investment Limited.
EFCC dragged them to court on a 22-count charge bordering on criminal breach of trust and fraudulent diversion of public fund to the tune of N19.4billion.
The EFCC counsel, Rotimi Jacobs (SAN) informed the court of the outcome of the Supreme Court judgment delivered on March 2.
According to Jacobs , the apex court upheld the earlier decision of the FCT High Court, which was the basis of the appeal.
He stated that the Supreme Court held that the conduct of Dasuki was an abuse of court process, adding that the court ordered that the cases be given accelerated hearing.
Jacobs read out some portion of the judgment which described Dasuki's appeal as abuse of court process.
He, therefore, urged the court to give effect to the Supreme Court directive on accelerated hearing, saying that in view of this the prosecution was ready to continue with the trial.
Counsel for Dasuki, Ahmed Raji (SAN), on his part, however, stated that the matter was adjourned till Thursday for the report of the outcome of the Supreme Court judgment.
According to him, "Nobody knew as at that day what would be the judgment. "Technically this matter was adjourned for mention."
He noted that the portion read out of the judgment by Jacobs was an instance of abuse.
While urging the court to give a new date for commencement of trial, Raji submitted that they held the apex court in high esteem and were ready to abide by its decision.
Counsel for Salisu, Chief Akin Olujinmi (SAN), however, told the court that there was the need for proper management of the two cases, adding that since the apex court had spoken, everyone of them was bound by its decision. (NAN)