By Charles Kumolu & Kelechukwu Iruoma
Rights activist, Chief Rita Lori-Ogbebor, yesterday, denied claims by Itsekiri Consolidated Movement, ICM, that the suit she instituted against Itsekiri Regional Development Council, IRDC, was responsible for the non-payment of scholarship fees to Itsekiri students.
She described the report to that effect as a ploy by some individuals to mount pressure on the judiciary to defreeze the IRDC accounts.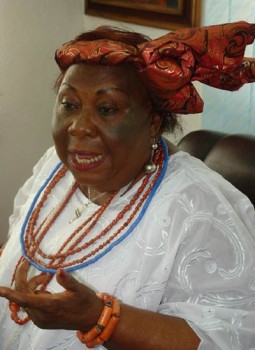 Lori-Ogbebor, who spoke to journalists in Lagos, insisted that the IRDC board was an illegal body that had mismanaged community development funds.
She said: "The people embezzling Itsekiri funds have resorted to publishing misleading reports in the media. They are doing that so that the funds will be released to them. I want Itsekiri people to demand accountability from them because they are looting our commonwealth.
"When the Olu of Warri ascended the throne of his ancestors, he said the IRDC should give way to let other people come in and ensure development in Itsekiri land. But they never did, instead, they took the matter to court.
"This is not acceptable to the Itsekiri. We want good men to represent us and run our affairs. It is the duty of the palace to select good men who will work for Itsekiriland.
"There is no law that recognised IRDC. The MoU between the community and Chevron should have been registered but it was not.
"The Olu's declaration that the board should step down still stands and the IRDC should be redesigned and registered. I am demanding accountability. The board has been existing for 10 years. They are supposed to be there for two years but they have recycled themselves and refused to step down."