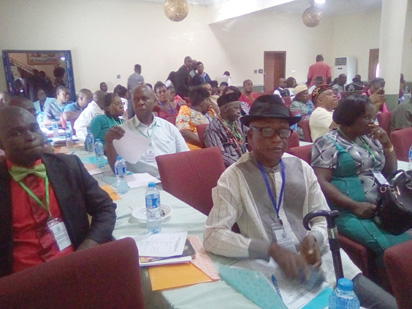 Cross section of participants at DRR Workshop in Akwa Ibom
By Chioma Onuegbu
UYO THE people of Akwa Ibom State have decried the long years of neglect and alleged insensitivity of government and oil companies towards the devastation of their environment and means of livelihood due to oil and gas exploration in the area.
Some representatives of the communities who spoke last week during the Community based Disaster Risk Reduction (DRR) plan organized by National Oil Spill Detection and Response Agency NOSDRA urged Nigerian government to address the glaring injustices in the oil producing states of Niger Delta region.
Authorities only interested in unfettered crude oil flow
A former Chairman of Ibesikpo Asutan LGA, Iniobong Ekpenyong questioned why the powers that be are expressing  more concern about what they lose as a result of destruction of the pipelines and neglecting the aspect that has to do with the sufferings of the oil communities.
He pointed out that government and oil companies or operators only look at actions of the communities as being irrational instead of their action as irrational by giving the communities justice.
There can be no peace without justice
"The powers that be have been trying to shy away from the truth.  Whichever way you want to look at it, there cannot be peace where there is no justice. Those at the top are sucking other people dry, and you are talking about the effect of pipeline vandalism on the environment.
"Let us imagine that I am living in a community and a pipeline passes behind my backyard and I am conscious of the fact that inside this pipeline in my community billions of dollars are passing through it and my livelihood is not improving, tell me, what stops me from breaking the pipeline?
"This is what we are talking about. Let them first give us justice then everybody  will be concerned and talk about how to protect the environment."
Similarly, one of the representatives of Eket local government area who did not want his name in print  lamented, "Nobody from oil state has oil wells but people that do not have oil in their soil are owners of all the oil wells. That is injustice. Such things bring about provocation. And why can't one out of the four refineries be located in Akwa Ibom as number one oil producer in the country.
"Our farmlands, fishing areas have been destroyed. Children of the farmers/fishermen have dropped out of school because their parents could no longer afford to sponsor their education as their means of livelihood had been destroyed from oil activities and no compensation paid to them to alleviate their suffering.
"And when these youths are idle they could resort to breaking pipelines out of frustration. We are not encouraging them in this, but these are the issues."
In his contribution Dr. John Ukpatu from Eastern Obolo decried a situation where compensation are not paid after oil spills stressing, "Even when NOSDRA will direct that clean up exercise be carried out, nothing will be done and that is why communities keep on suffering.
Worst environmental degradation
The State Commissioner for Environment and Mineral Resources Dr. Iniobong Essien who listed the dangers of pipeline vandalism to include environmental pollution and ecosystem damage due to oil spills, fire outbreaks, economic loss, population displacement and loss of lives among others described the programme as apt considering the level of environmental degradation in Niger Delta communities.
"This is very apt in the sense that we must learn from history. We must take a cue from antecedents of the past to be able to shape our future. I make particular reference to our brothers in Ogoniland where the cleaning exercise has been flagged off on paper.
"What is being proposed or being done in Ogoniland is more of a cure which is very expensive and today we don't even know the level of result that we are going to get from that exercise.
Scorched vegetation
"Experts have mentioned that the level of pollution that has taken place arising from oil spill in Ogoniland will take 30 to 40 years to be able to remediate it and the question is what happens to the livelihood of those people?
"The day the flag off was done by the Vice President I was in Ogoniland and I remember we had to trek for over 4kilometres to be able to access the point of that flag off. And I took a look at the vegetation, the soil and it was a pathetic sight. From what I saw there, I don't know the level of remediation that will be done such that people can regain their livelihood.
"That is why I said what we are doing today is very apt and I want us not to take is as another jamboree. Let's take this seriously. And like the common parlance goes 'prevention is better and I will like to add cheaper than cure."
Hope awaken
However reacting, Christiana Okunubi Acting Director Planning, Policy, Analysis NOSDRA assured them that the issues raised had been noted, appealing that breaking of pipelines must stop for the sake of the future generation.
"Why we are here is to proffer solutions on the way forward. So whatever solution you proffer we will identity it and capture it. We don't want this to be a talk show. We should disabuse our minds about what has been going on in the past and have hope that we will move forward"
On who pays compensation for oil spills she explained, "If it spilled through act of vandalism and it is established there is no compensation to be made but if it is rupture of pipeline compensation will be paid by the owner of that pipeline or product that comes from the pipeline".