By Olasunkanmi Akoni
lagos—THE Lagos State Government yesterday said the recent increase in the Land Use Charge, LUC, would bring about more resources to provide social services and infrastructure to the public.
The government recently repealed its 2001 Land Use Charge Law, and replaced it  with Land Use Charge Law, 2018.
However, its review has continued to elicit controversies from stakeholders with the  Organised Private Sector, OPS, rejecting the Law, vowing to fight it with every legal means at its disposal.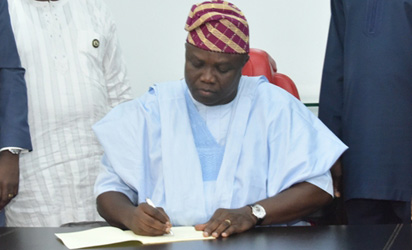 The OPS speaking through the Nigeria Employers' Consultative Association, NECA, posited that the new law would make property owners in Lagos State to pay an increase of over 200 per cent in Land Use Charge even when the income of the property owner had not experienced significant increase to justify the charge.
But Commissioner for Information and Strategy, Mr  Kehinde Bamigbetan, who paid a courtesy visit to Lagos Corporate Headquarters of Vanguard Media Limited, Apapa,  said the law exempted pensioners and those using their property for charitable and religious purposes to protect the poor and the vulnerable sections of the society.
According to him, the gains from the increase outweighed the pains as the state government was committing more than 20 percent of the 2018 budget to revamping the educational sector to build a better future for our youths.
He said: "Our classrooms are filled to the brim with children. We need to build more classrooms, we are expanding the spaces in our schools, building more vocational schools and making the Lagos State University a boarding institution for the first time. We are building 181 roads and we are determined to build more roads to ease transportation. We are also working on rail and waterways."
Bamigbetan, who described his visit as home coming as  a former staff ,  said: "According to the late sage nationalist Chief Obafemi Awolowo, taxation is the best way to go if we must raise resources for development. In our own story of the journey started in 2015-16, we realized to build the future for our children we needed to take education seriously and that was why we voted N20 billion last year to rehabilitate the schools.
"As a responsive government we have put ourselves at a historical point where we need to respond to the needs of this age and reposition the educational future of our children and create future workforce. A sizeable chunk of this year's budget has been earmarked to service education. So, where do we get the money?. When we looked at our laws we found out that LUC was meant to be reviewed every five years and in the last 15 years we have never reviewed LUC. We felt that if we look at inflation spiral between now and 15 years ago, look at goods and services 15 years ago, the law is overdue for increase.
"It is not just LUC, people have talked about harmonized taxes as a major factor in the ease of doing business. It is a tax that brings three taxes together, the grand rent, the tenement rate, Neigbourhood improvement tax, so when you pay the LUC you do not need to pay the three taxes again. The main targets are those making money from property because they make more money they need to pay more, that is the principles of progressive taxation. Those who pay more take care of those who pay less."