By Anayo Okoli
UMUAHIA—SENATOR Mao Ohuabunwa, representing Abia North District, has lamented the destructive activities of herdsmen, alleging that with the way the security threat is being treated, the APC Federal Government seems to value the life of animals more than that of human beings.
Ohuabunwa spoke while commissioning a motorised water bore hole at Nneato community of Umunneochi Local Government Area which he attracted through the Anambra-Imo River Basin Development Authority.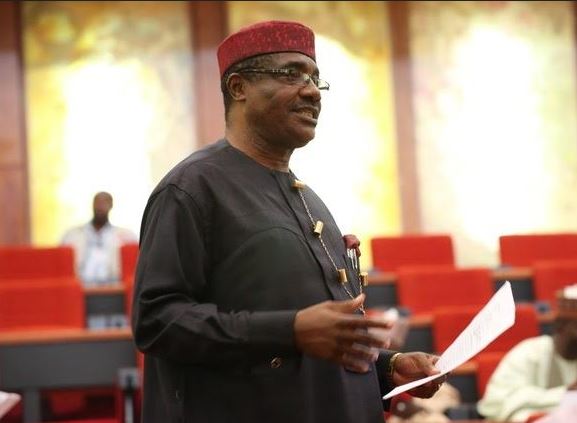 Ohuabunwa lamented the  manner human beings were killed on daily basis by Fulani militia in Nigeria under the watch of APC government.
"Nigeria is so insecure today that we no longer talk of killings, but the number killed. We have lost value for human lives. In Nigeria under APC, cows and dogs have more value than human beings," Senator Ohuabunwa said.
According to him, there was never a time in the history of Nigeria when "insecurity had gone as bad as it is today". He challenged the APC-led Federal Government to stop passing the bulk and take responsibility for its failure to secure lives and property of Nigerians.
He said that due to the callous killings and destruction of crops by herdsmen and the inability of the Federal Government to rise to the occasion, a lot of APC lawmakers, like other Nigerians have lost confidence in the Federal Government.
To this end, he hinted that majority of APC senators had perfected plans to dump the party and defect to PDP, which he claimed would provide a better leadership to the country.
"I can tell you that APC senators are now playing more opposition than their PDP counterparts because they have lost faith in their party," he noted.
Very soon they will defect en-masse to PDP. They are only waiting for the right time to strike.
"They are ashamed of what to tell their constituents during campaign. Is it to tell them that their party brought hunger and allowed killings of innocent Nigerians? No, they are tired of the lies", the Senator said.
Ohuanbunwa used the occasion to announce that he had also attracted N50 million worth of hospital equipments to health centres in the zone, and distributed 10 electricity transformers. According to him, two of the 10 Acts of the National Assembly already assented to by the President were his bills.
In his remarks, the Executive Director of Anambra-Imo River Basin Development Authority, Dr. Ben Aneke, commended the Senator for facilitating the project, and charged the community to guard the facility against vandals.
In their separate remarks, the Town Union President of Eziama Nneato Community, Dr. Emma Onyearo; and a community Leader, Sir Ifeanyi Okechukwu, commended the Senator for the boreholes which they said would help in solving the water needs of the community.