Gov. Yahaya Bello of Kogi has directed the arrest of suspects in the recent attacks on some political leaders in Okene, Adavi and Okehi local government areas.
In a statement in Lokoja on Tuesday, the governor said he would ensure that the perpetrators faced justice.
The statement, signed by the Chief Press Secretary to the Governor, Mrs Petra Akinti–Onyegbule, condemned the attack, saying it was unacceptable.
"The governor has since directed the relevant security agencies to ensure a thorough investigation into the allegations and bring the perpetrators and their sponsors to justice.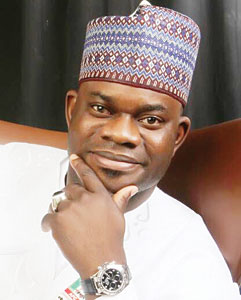 "This is irrespective of political parties or personalities involved," she said.
According to her, the governor has raised a high-powered delegation led by his Special Adviser on Local Government and Chieftaincy Affairs, Mr Sadiq Ohere, to visit the victims to express government's condolences to them.
"This is in pursuance of lasting peace and tranquillity in the land, and to reassure them of his commitment to ensuring the safety of lives and property of every resident of Kogi State," Akinti-Onyegbule added.
She said that the special adviser had since commenced visits to the homes of those affected, including members of the Peoples Democratic Party (PDP) who were allegedly attacked, to give them support.
"This government will not condone any form of crime or violence in any part of the state, the government is responsible for the security of lives and property of all residents of Kogi, irrespective of political affiliation," he said.
He said that perpetrating violence in the name of political support and thuggery was alien to the All Progressives Congress (APC) and the culture of the people of the state.
The governor stated further that his administration would not condone any act of violence or attack against innocent and law abiding citizens.
He refuted allegations that the APC masterminded the violence and advised the PDP to stop playing to the gallery.
He assured the PDP and other political parties in the state that his government would never indulge in political violence, urging them to stop playing politics with security.
Bello appealed to people to embrace peace, unity, love for one another while going about their normal businesses without fear. (NAN)
Violence erupted in Okene on March 3 during an empowerment programme sponsored by a lawmaker.
It however escalated to Okehi and Adavi local government areas on Sunday during which hoodlums unleashed mayhem on political rivals in the areas.
NAN