By Bashir Bello
KATSINA – The Sultan of Sokoto and President General, Nigerian Supreme Council for Islamic Affairs, Alhaji Muhammadu Sa'ad Abubakar III, has on Saturday told Nigerians to go, get their voter's card ready to elect leaders of their choice in the forthcoming 2019 general elections.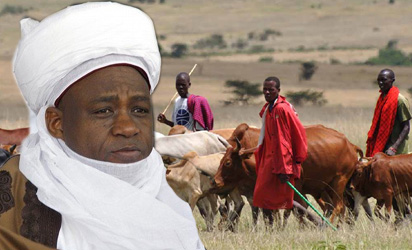 The Sultan made the call during the Closing Ceremony of the 32nd National Qur'anic Recitation competition organized by Centre for Islamic Studies, Usmanu Danfodiyo University, Sokoto and hosted by the Katsina State.
Alhaji Sa'ad Abubakar said it is only by getting their voter's card that they can have a say in what their leaders do.
The Sultan of Sokoto, urged Nigerians to ensure they register in order to participate in the voting process during the scheduled 2019 general elections.
"It is only through your voter's card that you can challenge your leaders and also have a say in what they do," the Sultan said.
In his remarks, Katsina State Governor, Alhaji Aminu Bello Masari, said the prevalent Almajiranci system has no basis in Islam.
"The practice of the Almajirai is far from being a reflection of Islamic ideals.
"The Almajirai are erroneously linked to Islamic education. Aged between four and 15 years, the Almajirai are engaged more in seeking sustenance for themselves than in learning the Qur'an. They are exposed, exploited and abused and many of them become involved in crimes. Islam does not encourage begging," Governor Masari said.
Meanwhile, about 250 reciters participated in the competition.
The event also saw Amina Aliyu Mohd from Borno state and Amiru Yunus Guru from Bauchi state emerging as the overall winners and got awards such as brand new cars, Hajj seats and other cash donations.
However, hosting of the 33rd edition of the competition slated for next year has been handed to Gombe state after they were announced the winner.